A Rising Thunder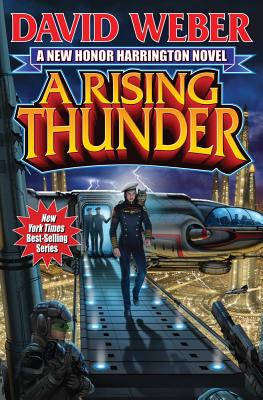 A Rising Thunder
Baen Books, Paperback, 9781451638714, 470pp.
Publication Date: February 5, 2013
* Individual store prices may vary.
Buy at Local Store
Enter your zip code below to purchase from an indie close to you.
or
Buy Here
Description
"# 3 New York Times "bestseller in hardcover. David Weber "New York Times, USA Today, Wall Street Journal" and international bestselling" "phenomenon delivers book #13 in the multiple "New York Times "best-selling Honor Harrington series. Honor Harrington faces down a powerful attack by a corrupt and powerful star empire while rooting out a deadly plot to enslave the entire human-inhabited galaxy.

Peril and strife strike on a double front for Honor Harrington and company. After a brutal attack on the Manticoran home system, Honor Harrington and the Star Kingdom she serves battle back against a new, technologically powerful, and utterly nefarious enemy. And as if that weren't task enough, Honor must also face down a centuries-old old nemesis in the crumbling, but still mighty, Solarian League.
The war between the People's Republic of Haven and the Star Kingdom is finally won and peace established, but grave danger looms-for there is a plan well on its way to completion designed to enslave the entire human species. Behind that plan lies the shadowy organization known as the Mesan Alignment.
Task number one for Honor is to defend against another devastating Mesan strike-a strike that may well spell the doom of the Star Kingdom in one fell blow. It is time to shut down and secure the wormhole network that is the source of the Star Kingdom's wealth and power-but also its greatest vulnerability. Yet this is an act that the ancient and corrupt Earth-based Solarian League inevitably will take as a declaration of war.
The thunder of battle rolls as the Solarian League directs its massive power against the Star Kingdom. And once again, Honor Harrington is thrust into a desperate battle that she "must" win if she is to survive to take the fight to the real enemy of galactic freedom-the insidious puppetmasters of war who lurk behind the Mesan Alignment
About "A Rising Thunder"
"Intrigue and counter-intrigue heighten the tension in Weber's 13th Honor Harrington novel. . .as the author highlights the complex maneuverings of government leaders in this politically savvy. . .novel that bridges the gap between the last novel and the expected sequel."--"Publishers Weekly"
About "Mission of Honor," #12 in the Honor Harrington series:
"Weber combines realistic, engaging characters with intelligent technological projection and a deep understanding of military bureaucracy in the long-awaited 12th Honor Harrington novel...Fans of this venerable space opera will rejoice to see Honor back in action."-"Publishers Weekly"
"This latest Honor Harrington novel brings the saga to another crucial turning point...Readers may feel confident that they will be Honored many more times and enjoy it every time."-"Booklist"
About David Weber and the Honor Harrington series:
." . .everything you could want in a heroine....excellent...plenty of action."-"Science Fiction Age"
"Brilliant Brilliant Brilliant "-Anne McCaffrey
"Compelling combat combined with engaging characters for a great space opera adventure."-"Locus"
"Weber combines realistic, engaging characters with intelligent technological projection. . .Fans of this venerable space opera will rejoice. . ."-"Publishers Weekly.
About the Author
David Weber is a science fiction phenomenon. His popular Honor Harrington and Honorverse novels including "Mission of Honor", "At All Costs", and "Torch of Freedom" are "New York Times" bestsellers and can't come out fast enough for his devoted readers. He is also the author of the Safehold series, including "Off Armageddon Reef", "By Schism Rent Asunder", "By Heresies Distressed" and "A Mighty Fortress". His other top-selling science fiction novels include "Out of the Dark", the Dahak books and the Multiverse books, written with Linda Evans. He has also created an epic SF adventure series in collaboration with John Ringo, including "We Few". His novels have regularly been Main Selections of the Science Fiction Book Club. Weber has a bachelor s degree from Warren Wilson College, and attended graduate school in history at Appalachian State University. He lives in South Carolina.