Portal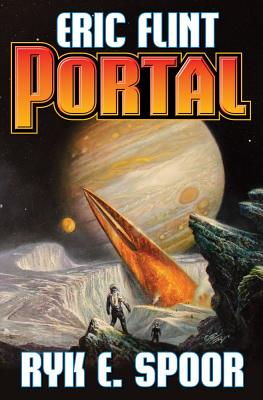 Portal
Baen Books, Hardcover, 9781451638967, 309pp.
Publication Date: May 7, 2013
* Individual store prices may vary.
Buy at Local Store
Enter your zip code below to purchase from an indie close to you.
or
Buy Here
Description
The sequel to "Boundary" and "Threshold." "New York Times" Best-Selling Author and a Rising Star of SF and Fantasy Continue their Popular Space Adventure Series.
The sequel to "Threshold," Book Three in the Boundary series.
HELL FROZEN OVER
Madeline Fathom had miraculously landed the crippled "Nebula Storm" on Europa. She joined on that frozen moon of Jupiter the stranded crewmembers of the ill-fated EU vessel "Odin." "The Nebula Storm"'s reactor was ruined in the landing, the "Odin"'s shuttle can't make the trip back home, and the only vessel that could have make the journey to save them has just been destroyed by a renegade crewman, bad luck, and the remorseless forces of nature.
But Madeline, Helen Sutter, A.J. Baker and the team have one card left to play. All they have to do... is survive lethal radiation, vacuum, and ice as hard as steel while they figure out how to make "Nebula Storm" fly again.
But even as they prepare to make the journey home, Europa has one more discovery waiting for them... a discovery that might be the deadliest trap in the Solar System
About "Portal"
""Portal" is a fast-paced tale that will remind many of classic science fiction from the 1950s and 1960s. If you were a fan of Hal Clement's stories combining world-building and aliens, Poul Anderson's space adventures or Robert Heinlein's tales of competent people in extraordinary circumstances, you will like "Portal .".. Flint remains one of the leading modern authors of science-fiction, and Spoor establishes himself as a rising presence."--"Daily News of Galveston County"
Praise for previous books in this series:
." . . fast-paced sci-fi espionage thriller . . . light in tone and hard on science . . ." --"Publishers Weekly" on "Boundary"
"The whole crew from Flint and Spoor's Boundary are back. . . . Tensions run high throughout the Ceres mission . . . a fine choice for any collection." --"Publishers Weekly" on "Threshold"
" P]aleontology, engineering, and space flight, puzzles in linguistics, biology, physics, and evolution further the story, as well as wacky humor, academic rivalries, and even some sweet romances." --"School Library Journal" on "Boundary.
About the Author
Eric Flint is a modern master of alternate history fiction, with over three million books in print. He s the author/creator of the New York Times best-selling Ring of Fire series. With David Drake he has written six popular novels in the Belisarius alternate Roman history series, including, and with David Weber collaborated on 1633 and 1634: The Baltic War. Flint was for many years a labor union activist. He lives in Chicago, Illinois.

Ryk E. Spoor was born in Omaha, Nebraska, and has since lived in South Dakota, Georgia, Pennsylvania, and New York. A fan of Oz from the time he was 6, Ryk collected all of the Baum Oz books and read them repeatedly, never forgetting them even when he graduated to the epic fantasy of Tolkien, the space opera of Doc Smith, the harder SF of Heinlein, Asimov, and Clement, and later becoming a computer geek, a gamer, and an anime fan. Along this fannish journey, Ryk also accumulated a few degrees (in Mathematics and Science, Psychology, and Information Science) and worked in various locations. He also met, dated, and married his wife Kathleen Moffre-Spoor, and they now have four children - all of whom have been introduced to Oz, among other stories of his youth. In 2000, Ryk cleverly attracted the attention of Baen Books by insulting the work of one of its editors, Eric Flint, online; this eventually led to the publication of his first book, Digital Knight, in 2003. With the publication of Polychrome Ryk E. Spoor enters the realm of self-publication; Polychrome is his eleventh book overall. He now lives in Troy, NY, with his family, one poodle, and a flock of chickens.