Engines of Change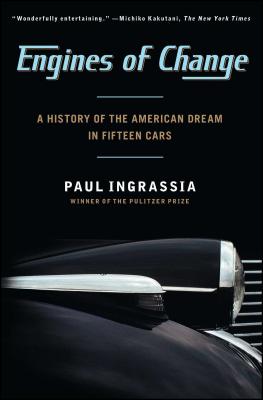 Engines of Change
A History of the American Dream in Fifteen Cars
Simon & Schuster, Paperback, 9781451640649, 395pp.
Publication Date: May 14, 2013
* Individual store prices may vary.
Buy Now
or
Shop Local
Enter your zip code below to purchase from an indie close to you.
Description
From the assembly lines of Henry Ford to the open roads of Route 66, America's history is a vehicular history–an idea brought brilliantly to life in this major work by Pulitzer Prize–winning journalist Paul Ingrassia.
Engines of Change is a wondrous epic in fifteen automobiles, including the Corvette, the Beetle, and the Chevy Corvair, as well as the personalities and tales behind them: Robert McNamara's unlikely role in Lee Iacocca's Mustang, Henry Ford's Model T, as well as Honda's Accord, the BMW 3 Series, and the Jeep, among others. Through these cars and these characters, Ingrassia shows how the car has expressed the particularly American tension between the lure of freedom and the obligations of utility. Narrative history of the highest caliber, Engines of Change is an entirely edifying new way to look at the American story.
About the Author
Paul Ingrassia, formerly the Detroit bureau chief for "The Wall Street Journal" and later the president of Dow Jones Newswire, is the deputy editor-in-chief of Reuters. Winner of the Pulitzer Prize in 1993 (with Joseph B. White) for reporting on management crises at General Motors, he is the author of "Crash Course: The American Automobile Industry s Road from Glory to Disaster".
Praise For Engines of Change…
"You will never look at a car the same way after reading Engines of Change—as I strongly recommend to anyone who relishes great storytelling that combines biography, social and political history, science, and romance. Having driven and virtually lived in a 1953 Plymouth on a year's journey across Eisenhower's America, and having followed that up many driving years later by writing on the innovations of Henry Ford, I thought I knew something of the history of cars. I was all the more surprised—and vastly entertained—by the riches in Ingrassia's stories of fifteen vehicles embodying the American dream from the Model T to the Beetle, the Corvair, the Corvette, and the Mustang to the pickups and the Prius (driven by the Pious). Even readers who cannot tell a camshaft from a cami-knicker will find fascination in a gallery of characters depicted by Ingrassia with vivacity and wit."—Sir Harold Evans



"The whole country in 15 cars—that's crowded! And Engines of Change is indeed packed from rocker panels to sunroof with good stories and salient facts about the automobiles that shaped America, from the oddity of the Model T to the oddballs driving the Prius."—P.J. O'Rourke



"Highly entertaining... lucid... Engines of Change informed and charmed me..."—Joseph Epstein, The Wall Street Journal



"The prose is lapidary, the tone informed by humor.Paul Ingrassia has written an automobile book that goes beyond the genre;it's for anyone interested in modernity and what led us to where we are."—Miles Collier, The Revs Institute for Automotive Research



"Paul Ingrassia knows where the bodies are buried, or maybe where the keys to the American car business got lost. With a swift, sure scalpel honed by years as the industry reporter, he anatomizes Detroit in all its glory and inglorious decline. A thoughtful, propulsive assay of themachine that changed a nation, a world."—Dan Neil, car critic, The Wall Street Journal



"Entertaining and instructive..."—George Will, The Washington Post



"Sure, cars suck up gas, and they promote suburban sprawl, but they also help drive the economy, and drive families from home to school to soccer field. And, of course, cars fire our imaginations. Paul Ingrassia, who won a Pulitzer Prize for reporting from Detroit for The Wall Street Journal, has written a book about cars that may not all be cherished classics or engineering marvels, but have earned a place in America's scrapbook."—Scott Simon, National Public Radio



"Ingrassia succeeds in fashioning well-researched, swift-paced narratives around each of these 15 select automobiles. Using colorful detail, he effectively recasts these significant driving machines in their respective cultural contexts and brings to life the eras they influenced."—Kirkus Reviews



"A must for anyone with a passion for cars, history, or simply an interest in America's story."—Bask Magazine



"Paul Ingrassia…is probably the best broadsheet reporter ever to cover the car business…Picking 15 vehicles as tent poles for this sprawling canvas was a good idea, and Ingrassia chose well…Any book on a topic so overwhelming as the car in America has to be more of a goad to, than a proof of, argument. And here Ingrassia has succeeded."—Weekly Standard