You Take It from Here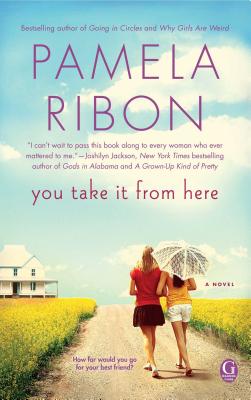 You Take It from Here
Gallery Books, Paperback, 9781451646238, 336pp.
Publication Date: July 3, 2012
* Individual store prices may vary.
Buy at Local Store
Enter your zip code below to purchase from an indie close to you.
or
Buy Here
Description
From the author of "Why Girls Are Weird" comes a poignant, funny tale about two very different best friends one terminally ill with cancer, and the other determined to do absolutely everything she can to help
"Just because you d give your best friend everything doesn t mean she has to take it. "
On the heels of a divorce, all Danielle Meyers wants is her annual vacation with sassy, life-long best friend, Smidge complete with umbrella cocktails by an infinity pool but instead she's hit with the curveball of a lifetime. Smidge takes Danielle to the middle of nowhere to reveal a diagnosis of terminal cancer, followed by an unusual request: " After I m gone, I want you to finish the job. Marry my husband. Raise my daughter. I m gonna teach you to how to be Smidge 2.0. "
As Danielle wrestles with this major life decision, she finds herself torn between being true to her best friend's wishes and being honest with herself. Parenting issues aside, Smidge's small-town Louisiana world is exactly the one Danielle made sure to escape. Danielle isn t one for playing the social butterfly, or being the center of attention. And when your best friend tries to set you up on a date night with her husband, it might be time to become the bossy one for a change.
In the spirit of "Beaches "and "Steel Magnolias, You Take It from Here "is an honest, hilarious, and heartbreaking novel that ultimately asks: How much should we sacrifice for the ones we love the most?
About the Author
Pamela Ribon is a bestselling author, television writer and performer. A pioneer in the blogging world, her first novel, "Why Girls Are Weird", was loosely based on her extremely successful website pamie.com. The site has been nominated for a Bloggie in Lifetime Achievement, which makes her feel old. Ribon created the cult sensation and tabloid tidbit "Call Us Crazy: The Anne Heche Monologues", a satire of fame, fandom and Fresno. Her two-woman show, "Letters Never Sent" (created with four-time Emmy winner and "Jay Leno Show" favorite Liz Feldman) was showcased at the 2005 HBO US Comedy Arts Festival in Aspen. She has been writing in television for the past seven years, in both cable and network, including on the Emmy-award winning "Samantha Who?" starring Christina Applegate. Using her loyal Internet fan base, Ribon sponsors book drives for libraries in need. Over the years, pamie.com has sent thousands of books and materials to Oakland and San Diego, sponsored a Tsunami-ravaged village of schoolchildren, and helped restock the shelves of a post-Katrina Harrison County, Mississippi. Ribon s book drive can now be found at DeweyDonationSystem.org, which has sponsored libraries from the Negril School in Jamaica to the Children s Institute in Los Angeles.
Praise For You Take It from Here…
"A book with all the elements I love: best friends, "found" families, Ribon's trademark humor and vivid writing... I can't wait to dive in."

-Jennifer Weiner


"You get to the end of the book, and you have that sense that you've heard a whole story that seemed to be about skin-and-bones people, to the point where part of you is still worrying about them, like they're phantom limbs."

-Linda Holmes


"One of those rare books where the characters feel like your best friends from the first page. You'll laugh and cry as Pamela Ribon takes you on a colorful, rich and unforgettable journey of friendship."

-Kristin Harmel, author of The Sweetness of Forgetting


"Hilarity and heartbreak compete, but ultimately hope wins in this thoroughly delightful story about what it means to be a woman, a mother, a best friend. I can't wait to pass this book along to every woman who ever mattered to me. Pamela Ribon has a huge, fresh voice, and this is her best book yet."

-Joshilyn Jackson, New York Times bestselling author of Gods in Alabama and A Grown-Up Kind of Pretty


"I giggled, I laughed, I got all angry and emo - and once I made sure no one was looking - I cried."