An Invisible Thread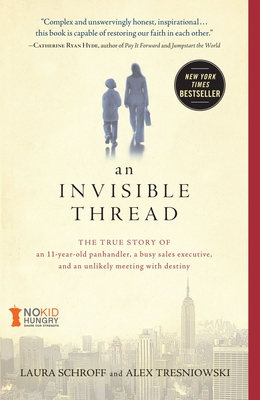 An Invisible Thread
The True Story of an 11-Year-Old Panhandler, a Busy Sales Executive, and an Unlikely Meeting with Destiny
Howard Books, Paperback, 9781451648973, 238pp.
Publication Date: August 7, 2012
* Individual store prices may vary.
Buy at Local Store
Enter your zip code below to purchase from an indie close to you.
or
Buy Here
Description
An Invisible Thread tells of the life-long friendship between a busy sales executive and a disadvantaged young boy, and how both of their lives were changed by what began as one small gesture of kindness.
Stopping was never part of the plan...
She was a successful ad sales rep in Manhattan. He was a homeless, eleven-year-old panhandler on the street. He asked for spare change; she kept walking. But then something stopped her in her tracks, and she went back. And she continued to go back, again and again. They met up nearly every week for years and built an unexpected, life-changing friendship that has today spanned almost three decades.
Whatever made me notice him on that street corner so many years ago is clearly something that cannot be extinguished, no matter how relentless the forces aligned against it. Some may call it spirit. Some may call it heart. It drew me to him, as if we were bound by some invisible, unbreakable thread. And whatever it is, it binds us still.
About the Author
Laura Schroff has worked as an advertising sales executive for some of the biggest media companies in the U.S., including Time Warner, USA TODAY, and Conde Nast.

Alex Tresniowski is the top human-interest writer at People and has written several books, most notably The Vendetta, which was purchased by Universal Studios and used as a basis for the movie Public Enemies.
Praise For An Invisible Thread…
"I thought I knew what An Invisible Thread was going to be. I thought it would be a simple and hopeful story about a woman who saved a boy. I was wrong. It's a complex and unswervingly honest story about a woman and a boy who saved each other. By its raw honesty and lack of excess sentimentality, it is even more inspirational. This is a book capable of restoring our faith in each other and in the very idea that maybe everything is going to be okay after all."

-Catherine Ryan Hyde, author of Pay It Forward and Jumpstart the World


"An Invisible Thread—a remarkable story, told so beautifully and honestly—shows us what's possible when we are not afraid to connect with another human being and tap into our compassion. It is a story about the power each of us has to elevate someone else's life and how our own life is enriched in the process. This special book reminds us that damaging cycles can be broken and not to neglect the humanity of the strangers we brush up against every day."

-Chris Gardner, bestselling author of The Pursuit of Happyness and Start Where You Are


"A straightforward tale of kindness and paying it forward in 1980s New York . . . For readers seeking an uplifting reminder that small gestures matter."



"According to an old Chinese proverb, there's an invisible thread that connects two people who are destined to meet and influence each other's lives. . . . As Schroff relates Maurice's story, she tells of her own father's alcoholism and abuse, and readers see how desperately these two need each other in this feel-good story about the far-reaching benefits of kindness."



"An Invisible Thread is like The Blind Side, but instead of football, it's food. These are two people who were brought together by one simple meal, and it literally changed the course of both of their lives. This is a must-read . . . you can read it in a day because it's impossible to put down. If you read it and find it as moving as I did, pay it forward: buy a copy and give it to a friend."

-Rachael Ray, host of The Rachael Ray Show


"This book is a game-changer . . . each chapter touches your heart. An Invisible Thread is a gift to us all. America needs this book now more than ever."

-"Coach" Ron Tunick, national radio show host, "The Business of Life"


"An incredible story . . . I would encourage everyone to pick up this book."

-Clayton Morris, host, Fox & Friends


"If you have a beating heart—or if you fear you're suffering a hardening of the emotional arteries—you really ought to commit to this book at the earliest possible opportunity . . . read this book. And pass it on. And encourage the next reader to do the same."

-Jesse Kornbluth


"This is one of the most touching and refreshing and inspiring stories I have read in a long time. If you had made this story up, I wouldn't have believed it, but it's true. We all need something to inspire us, and I promise you, this book will make you want to stand up and do something nice for people. What a wonderful and needed story for all of us. An Invisible Thread is fantastic."

-Mike Huckabee, Former Governor of Arkansas, Host of Fox News's "Huckabee Show"


"A single moment of obedience by an ordinary person started a wonderful relationship and a better life for a poor street child. Maurice started to dream, because Laura showed him compassion and kindness. This is exactly what Jesus is asking his followers to do today in a broken world. An Invisible Thread is an example for each and every one of us, not only in South Africa but in every other country. This book can and will change the world."

-Dr. Johan Smith, Pastor of Moreleta Church in Pretoria, South Africa