Rest in Pieces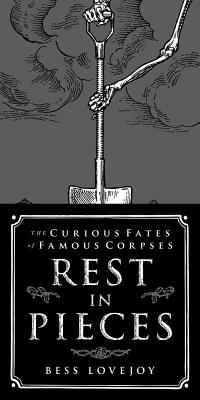 Rest in Pieces
The Curious Fates of Famous Corpses
Simon & Schuster, Hardcover, 9781451654981, 329pp.
Publication Date: March 12, 2013
* Individual store prices may vary.
Buy at Local Store
Enter your zip code below to purchase from an indie close to you.
or
Not Currently Available for Direct Purchase
Description
A writer and researcher behind the bestselling "Schott's Almanac" brings us a delightfully macabre collection of morbid curiosities: tales of what happened to famous people after they died.
IN THE LONG RUN, WE RE ALL DEAD.
But for some of the most influential figures in history, death marked the start of a new adventure.
The famous deceased have been stolen, burned, sold, pickled, frozen, stuffed, impersonated, and even filed away in a lawyer's office. Their fingers, teeth, toes, arms, legs, skulls, hearts, lungs, and nether regions have embarked on voyages that crisscross the globe and stretch the imagination.
Counterfeiters tried to steal Lincoln's corpse. Einstein's brain went on a cross-country road trip. And after Lord Horatio Nelson perished at Trafalgar, his sailors submerged him in brandy which they drank.
From Mozart to Hitler, "Rest in Pieces "connects the lives of the famous dead to the hilarious and horrifying adventures of their corpses, and traces the evolution of cultural attitudes toward death.
About the Author
Bess Lovejoy is a writer, researcher, and editor based in Brooklyn. She worked on the Schott s Almanac series for five years, and her writing has also appeared in "The New York Times", "The Believer", "The Boston Globe", and elsewhere.
Praise For Rest in Pieces…
"A tasty, sharp, wonderfully unusual book. I enjoyed it like a jar of perfect dill pickles: when the mood strikes, nothing else will satisfy."

-Mary Roach


"If really, we're all sitting in the undertaker's waiting-room, then Rest in Pieces is the perfect easy read, preparation for the moment when the nurse steps out of the shadows and quietly calls your name."

-Simon Winchester


"The world is awash with legendary body parts, from Einstein's brain to Napoleon's most intimate organ, and this wildly entertaining account proves that the fate of the grisly relics tells us a huge amount about history—and ourselves."

-Tony Perrottet


"Deliciously morbid and delightfully macabre, Rest in Pieces is required reading for those of us who intend, one day, to die."

-Ben Schott


"[A] historically beguiling, stranger-than-fiction compendium, which unearths the surprising fates of famous corpses, from Beethoven's to Eva Peron's."



"Marvelously macabre. . . . A fascinating foray into the way of all flesh."