Paterno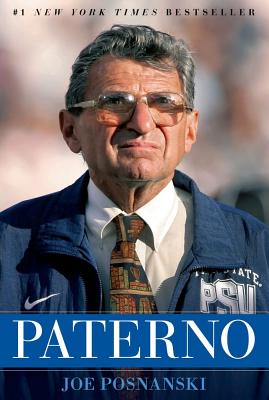 Paterno
Simon & Schuster, Hardcover, 9781451657494, 416pp.
Publication Date: August 21, 2012
* Individual store prices may vary.
Buy at Local Store
Enter your zip code below to purchase from an indie close to you.
or
Not Currently Available for Direct Purchase
Description
By America's premier sportswriter, written with full cooperation of Joe Paterno and his family, "Paterno" is the definitive account of the epic life of America's winningest college football coach. Published to coincide with Penn State football's first season without their legendary leader.
Joe Posnanski's biography of the late Penn State football coach Joe Paterno follows in the tradition of works by Richard Ben Cramer on Joe DiMaggio and David Maraniss on Vince Lombardi. Having gained unprecedented access to Paterno, as well as the coach's personal notes and files, Posnanski spent the last two years of Paterno's life covering the coach, on (and off) the field and through the scandal that ended Paterno's legendary career.
Joe Posnanski, who in 2012 was named the Best Sportswriter in America by the National Sportswriters and Sportscasters Hall of Fame, was with Paterno and his family as a horrific national scandal unfolded and Paterno was fired. Within three months, Paterno died of lung cancer, a tragic end to a life that was epic, influential, and operatic.
"Paterno" is the fullest description we will ever have of the man's character and career. In this honest and surprising portrait, Joe Posnanski brings new insight and understanding to one of the most controversial figures in America.
About the Author
Joe Posnanski is the author of the #1 "New York Times" bestseller "Paterno". He is a national columnist for NBC Sports and was a senior writer at "Sports Illustrated "from 2009 to 2012. In 2012, he was named National Sportswriter of the Year by the Sportswriters and Sportscasters Hall of Fame. Before joining "SI", he was a columnist for the "Kansas City Star "for fifteen years, and was twice named the best sports columnist in America by the Associated Press Sports Editors. He is the author of four books and has been anthologized widely. He lives in Charlotte, North Carolina, with his family.
Praise For Paterno…
"Paterno is a portrait very much in three dimensions. It is the story of an extraordinary life."



"Paterno adds grain and texture to the historical record.... makes a cogent case for absorbing Paterno's entire legacy."

-Dwight Garner


"I urge you to read [Paterno]. . . A life is never defined entirely by a man's good, or by his bad."

-Mike Vaccaro


"It is exhilirating to read of Paterno the man and gripping to read of his downfall."



The truth is that [Paterno] is a portrait very much in three dimensions. In that sense, Posnanski succeeds…We are left with this book as the final record of the final days. It is more than that, obviously - it is the story of an extraordinary life - but it is most compelling as a chronicle of the end."