You Can Be Right (or You Can Be Married)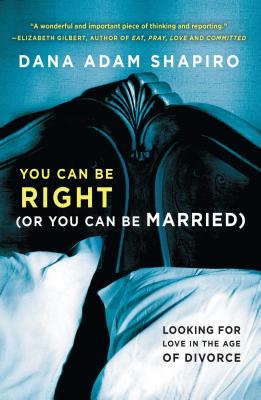 You Can Be Right (or You Can Be Married)
Looking for Love in the Age of Divorce
Scribner Book Company, Paperback, 9781451657784, 236pp.
Publication Date: September 17, 2013
* Individual store prices may vary.
Buy Now
or
Shop Local
Enter your zip code below to purchase from an indie close to you.
Description
A collection of candid and illuminating break-up stories resulting from three years of interviews by an Oscar-nominated documentary filmmaker a wonderful and important piece of thinking and reporting (Elizabeth Gilbert).
It all began as a self-help journey in the purest sense. A serial monogamist for more than two decades, Shapiro wanted to know why the honeymoon phase of his relationships never lasted until the actual honeymoon. Believing that you learn more from failure than from success, he spent the next three years crisscrossing the country with a tape recorder, interviewing hundreds of divorced people, hoping to become so fluent in the errors of Eros that he would be able to avoid them in his own love life and one day be a better husband.
The result is a timely treasure trove of marital wisdom that is as racy as it is revelatory. Shockingly intimate and profoundly personal, this is a page-turning, voyeuristic investigation of modern love and a practical guide for any couple looking to beat the roulette-wheel odds of actually staying together forever.
About the Author
Dana Adam Shapiro produced and co-directed MURDERBALL, the Academy Award nominated documentary about quadriplegic rugby players. Shapiro is a founder of ICON Magazine, a former senior editor at SPIN, and a contributor to the NEW YORK TIMES MAGAZINE and other publications. With Plan B Entertainment, he is set to write and direct a movie based on his first novel, THE EVERY BOY.