A Farewell to Arms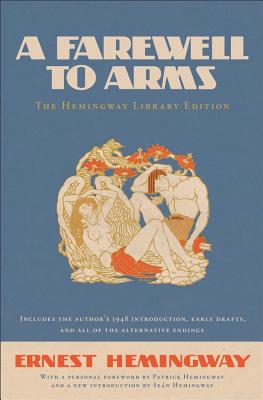 A Farewell to Arms
The Hemingway Library Edition
Scribner Book Company, Hardcover, 9781451658163, 330pp.
Publication Date: July 10, 2012
* Individual store prices may vary.
Buy at Local Store
Enter your zip code below to purchase from an indie close to you.
or
Buy Here
Description
Presented by Patrick and Sean Hemingway, this augmented edition of Ernest Hemingway's classic novel of love during wartime features early drafts and, for the first time, all of the author's alternate endings.
Written when Ernest Hemingway was thirty years old and lauded as the best American novel to emerge from World War I, "A Farewell to Arms "is the unforgettable story of an American ambulance driver on the Italian front and his passion for a beautiful English nurse. Set against the looming horrors of the battlefield weary, demoralized men marching in the rain during the German attack on Caporetto; the profound struggle between loyalty and desertion this gripping, semiautobiographical work captures the harsh realities of war and the pain of lovers caught in its inexorable sweep.
Ernest Hemingway famously said that he rewrote the ending to "A Farewell to Arms "thirty-nine times to get the words right. This edition collects all of the alternative endings together for the first time, along with early drafts of other essential passages, offering new insight into Hemingway's craft and creative process and the evolution of one of the greatest novels of the twentieth century. Featuring Hemingway's own 1948 introduction to an illustrated reissue of the novel, a personal foreword by the author's son Patrick Hemingway, and a new introduction by the author's grandson Sean Hemingway, this edition of "A Farewell to Arms "is truly a celebration.
About the Author
Ernest Hemingway was one of America s foremost journalists and authors. A winner of both the Pulitzer Prize (1953) and the Nobel Prize for Literature (1954), Hemingway is widely credited with driving a fundamental shift in prose writing in the early twentieth century. As an American expatriate in Paris in the 1920s, Ernest Hemingway achieved international fame with such literary works as The Sun Also Rises, The Old Man and the Sea, and For Whom the Bell Tolls, which depicts his experience as a correspondent during the Spanish Civil War. Hemingway died in 1961, leaving behind a rich literary legacy.

Ernest Hemingway (1899-1961), author of many classic works, including "The Sun Also Rises, A Farewell to Arms, For Whom the Bell Tolls, The Old Man and the Sea, Green Hills of Africa, The Garden of Eden," and "In Our Time," was awarded the Nobel Prize in Literature in 1954. Sean Hemingway and his wife, Colette, live in Brooklyn, New York. Patrick Hemingway and his wife, Carol, live in Bozeman, Montana.

Sean Hemingway is Associate Curator in the Department of Greek and Roman Art at the Metropolitan Museum of Art in New York.
Sunday, Jul 22, 2012
Ernest Hemingway famously told The Paris Review that he'd rewritten the ending to A Farewell to Arms 39 times before he was satisfied. Those endings � and more � are being published in a new addition to the classic novel. But the writer's grandson, Sean, says Hemingway always knew the book would end sadly. More at NPR.org