The Best of the Best American Poetry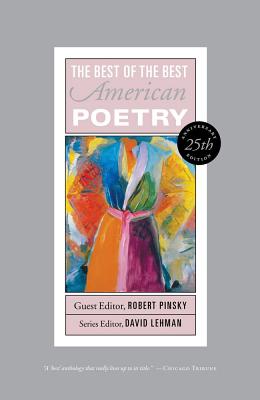 The Best of the Best American Poetry
Scribner Book Company, Hardcover, 9781451658873, 322pp.
Publication Date: April 9, 2013
* Individual store prices may vary.
Buy Now
or
Shop Local
Enter your zip code below to purchase from an indie close to you.
Description
Robert Pinsky, distinguished poet and man of letters, selects the top 100 poems from twenty-five years of "The Best American Poetry"
THIS SPECIAL EDITION CELEBRATES twenty-five years of the "Best American Poetry "series, which has become an institution. "The Best American Poetry "is the most prestigious poetry publication in the United States and has been so almost from its inception in 1988. Hotly debated, keenly monitored, ardently advocated (or denounced), and obsessively scrutinized, every volume in the series consists of seventy-five poems chosen by a major American poet from John Ashbery in 1988 to Mark Doty in 2012, with stops along the way for such poets as Jorie Graham, Charles Simic, A. R. Ammons, Louise Gluck, James Tate, Adrienne Rich, Paul Muldoon, Billy Collins, Heather McHugh, and Kevin Young.
Out of the 1,875 poems that have appeared in "The Best American Poetry," here are 100 that Robert Pinsky, the distinguished poet and man of letters, has chosen for this milestone edition. Each volume in the series is represented, and the result is a pleasure-giving book of twice-honored poems that readers will find indispensable. "The Best of the Best American Poetry "is proof positive that the art form is flourishing. The volume is a reminder, too, of the role this anthology series has played in the resurgence of interest in American poetry in the last quarter century.
With dazzling introductory essays by guest editor Robert Pinsky and series editor David Lehman, "The Best of the Best American Poetry "includes up-to-date biographies of the poets, along with the comments they made when the poems were originally selected. This is an invaluable addition to the cherished series.
About the Author
Robert Pinsky was born on October 20, 1940 in Long Branch, New Jersey. He received a B.A. from Rutgers University in New Brunswick, New Jersey, and earned both an M.A. and Ph.D. in Philosophy from Stanford University, where he was a Stegner Fellow in creative writing, and studied under the poet and critic Yvor Winters .
He is the author of several collections of poetry, most recently Gulf Music: Poems; Jersey Rain (2000); The Figured Wheel: New and Collected Poems 1966-1996 (1996), which received the 1997 Lenore Marshall Poetry Prize and was a Pulitzer Prize nominee; The Want Bone (1990); History of My Heart (1984); An Explanation of America (1980); and Sadness and Happiness (1975).
He is also the author of several prose titles, including The Life of David; Democracy, Culture, and the Voice of Poetry (2002); The Sounds of Poetry (1998), which was a finalist for the National Book Critics Circle Award; Poetry and the World (1988); and The Situation of Poetry (1977). In 1985 he also released a computerized novel, Mindwheel.
Pinsky has published two acclaimed works of traslation: The Inferno of Dante (1994), which was a Book-of-the-Month-Club Editor's Choice, and received both the Los Angeles Times Book Prize and the Harold Morton Landon Translation Award ; and The Separate Notebooks by Czeslaw Milosz (with Renata Gorczynski and Robert Hass ).
About his work, the poet Louise Gluck has said, "Robert Pinsky has what I think Shakespeare must have had: dexterity combined with worldliness, the magician's dazzling quickness fused with subtle intelligence, a taste for tasks and assignments to which he devises ingenious solutions."
From 1997 to 2000, he served as the United States Poet Laureate and Consultant in Poetry to the Library of Congress. During that time, he founded the Favorite Poem Project, a program dedicated to celebrating, documenting and encouraging poetry's role in Americans' lives.
In 1999, he co-edited Americans' Favorite Poems: The Favorite Poem Project Anthology with Maggie Dietz. Other anthologies he has edited include An Invitation to Poetry (W. W. Norton & Company, 2004); Poems to Read (2002); and Handbook of Heartbreak (1998).
His honors include an American Academy of Arts and Letters award, both the William Carlos Williams Award and the Shelley Memorial prize from the Poetry Society of America, the PEN/Voelcker Award for Poetry, and a Guggenheim Foundation fellowship. He is currently poetry editor of the weekly Internet magazine Slate .
Pinsky has taught at both Wellesley College and the University of California, Berkeley, and currently teaches in the graduate writing program at Boston University. He lives in Cambridge, Massachusetts.
Sherman Alexie, winner of the PEN/Faulkner Award for Fiction, the PEN/Malamud Award for Short Fiction, a PEN/Hemingway Citation for Best First Fiction, and the National Book Award for Young People's Literature, is a poet, short story writer, novelist, and performer. His twenty-four books include"What I've Stolen, What I've Earned", poetry, "Blasphemy: New and Selected Stories", and"The Absolutely True Diary of a Part-Time Indian, "a novel. Alexie has been an urban Indian since 1994 and lives in Seattle with his family.
A. R. Ammons s (1926 2001) honors include the National Book Critics Circle Award and the National Book Award.
Praise For The Best of the Best American Poetry…
"The strength of [The Best of the Best American Poetry] is its sense of subjectivity, the way these poems illustrate their editor's aesthetic, and in so doing, tell us something of how poetry operates in the world…These are poems that take the personal and make it universal, not by grand statements but by specific observation, building a common vision out of the very things that hold us apart."

-David Ulin


"The Best of the Best American Poetry collects 100 splendid works by American poets from a quarter-century of the Best American Poetry series."

-Colette Bancroft


"A concentrated, high-caliber, and exhilarating overview of the intensity and artistry that have made American poetry so splendidly varied and vital…This is an anthology of broad scope, serious pleasure, and invaluable illumination."

-Donna Seaman


"This indispensable volume, with its rich mix of voices, forms and techniques, serves as a melting pot of contemporary American verse."

-Julie Hale


"It takes special chutzpah and perspective to pick the poems that deserve to make the best cut twice—and Pinsky's fine collection proves that he's got the chops to do it…His selection is so rich and diverse one can't help but find several poems that will brighten any winter day…The Best of the Best American Poetry is a collection that never stops bringing light."

-Bruce Jacobs


"[A] survey of the past quarter-century of American verse…No doubt, some readers will discover new favorites here."