Inside the Box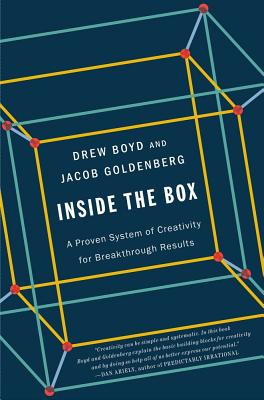 Inside the Box
A Proven System of Creativity for Breakthrough Results
Simon & Schuster, Hardcover, 9781451659252, 257pp.
Publication Date: June 11, 2013
* Individual store prices may vary.
Buy at Local Store
Enter your zip code below to purchase from an indie close to you.
or
Not Currently Available for Direct Purchase
Description
This counterintuitive and powerfully effective approach to creativity demonstrates how every corporation and organization can develop an innovative culture.
Want to be creative? Then think Inside the Box. The traditional view says that creativity is unstructured and doesn t follow rules or patterns. That you need to think outside the box to be truly original and innovative. That you should start with a problem and then brainstorm ideas without restraint until you find a solution. Inside the Box shows that more innovation and better and quicker innovation happens when you work inside your familiar world (yes, inside the box) using a set of templates that channel the creative process in a way that makes us more not less creative. These techniques were derived from research that discovered a surprising set of common patterns shared by all inventive solutions. They form the basis for Systematic Inventive Thinking, or SIT, now used by hundreds of corporations throughout the world, including industry leaders such as Johnson & Johnson, GE, Procter & Gamble, SAP, and Philips. Many other books discuss how to make creativity a part of corporate culture, but none of them uses the innovative and unconventional SIT approach described in this book. With inside the box thinking, companies and organizations of any size can creatively solve problems before they develop and innovate on an ongoing, systematic basis. This system really works
About the Author
Drew Boyd is assistant professor of marketing and innovation at the University of Cincinnati. He trains and consults in the fields of innovation, marketing, persuasion, and social media. He lives in Cincinnati, Ohio.

Dr Jacob Goldenberg, senior lecturer at the Hebrew University of Jerusalem School of Business Administration, is a leading expert on creative thinking and product development. He has taught courses and workshops in inventive thinking for hi-tech companies and marketing organizations in both Israel and the United States, and has worked with companies such as Scitex, Intel, Motorola, Coca-Cola, Mastercard, Ogilvy & Mather and Rapp & Collins. He received a joint Ph.D. degree on this topic from the School of Business Administration and the Racach Institute of Physics at the Hebrew University of Jerusalem, Summa Cum Laude. His bachelor's degree was in aeronautical engineering and his master's degree in mechanical engineering. Jacob published papers in leading journals, including Science, the Journal of Marketing Research, Marketing Science, Management Science, and others.