All in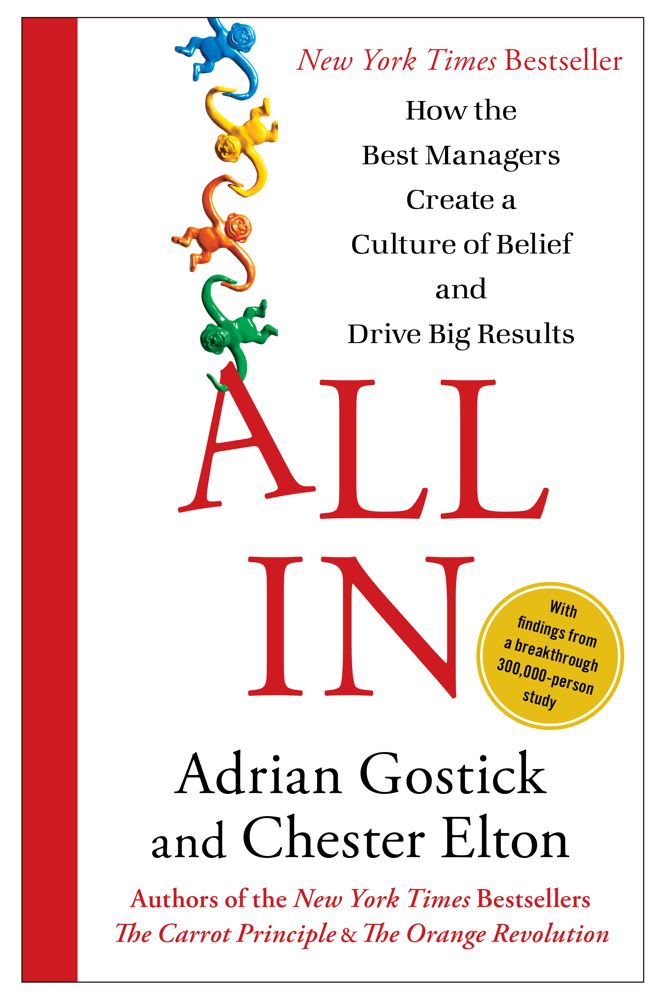 All in
How the Best Managers Create a Culture of Belief and Drive Big Results
Free Press, Hardcover, 9781451659825, 243pp.
Publication Date: April 3, 2012
* Individual store prices may vary.
Buy Now
or
Shop Local
Enter your zip code below to purchase from an indie close to you.
Description
The authors of the bestsellers "The Carrot Principle" and "The Orange Revolution" present groundbreaking new findings: In the highest-performing teams and companies, managers create a "culture of belief," following seven essential steps of leadership.
To have any hope of succeeding as a manager, you need to get your people "all in."
Whether you manage the smallest of teams or a multi-continent organization, you are the owner of a work culture--congratulations--and few things will have a bigger impact on your performance than getting your people to buy into your ideas and your cause and to believe what they do matters.
Bestselling authors of "The Carrot Principle "and "The Orange Revolution, "Adrian Gostick and Chester Elton return to answer the most overlooked leadership questions of our day: Why are some managers able to get their employees to commit wholeheartedly to their culture and give that extra push that leads to outstanding results? And how can managers at any level build and sustain a profitable, vibrant work-group culture of their own?
These leading workplace experts teamed up with research giant Towers Watson to analyze an unprecedented 300,000-person study, and they made a groundbreaking finding: managers of the highest-performing work groups create a "culture of belief." In these distinctive workplaces, people "believe "in their leaders and in the company's vision, values, and goals. Employees are not only engaged but also enabled and energized (termed the three Es), which leads to astonishing results--average annual revenues three times higher than for organizations lacking such a positive culture. And this was true during a period that included this most recent recession.
Based on their extensive consulting experience and in-depth interviews with leaders and employees at exceptional companies such as American Express, Cigna, Avis Budget, Pepsi Bottling, and Hard Rock, the authors present a simple seven-step road map for creating a culture of belief: define a burning platform; create a customer focus; develop agility; share everything; partner with your talent; root for each other; and establish clear accountability. Delving into specific how-tos for each step, they share eye-opening stories of exceptional leaders in action, vividly depicting just how these powerful methods can be implemented by any manager.
"All In "draws on cutting-edge psychology and all of the creative genius that have made Gostick and Elton a must-read for leaders worldwide. This vital resource will empower managers everywhere to inspire a new level of commitment and performance.
About the Author
Adrian Gostick is co-author of the best-selling The Integrity Advantage. An award-winning business author, Adrian also co-wrote the critically acclaimed business book The 24-Carrot Manger, called a "must read for modern-day managers" by Larry King. He has written for USA Today Magazine, Investor's Business Daily, and other national publications, and has been featured on CNBC, MSNBC, and NPR. Adrian is director of corporate communication with the O.C. Tanner Company. Adrian has a master's degree in strategic communication and leadership from Seton Hall, and is a guest lecturer on ethics at that university. He lives in Oakley, Utah.

Called the "apostle of appreciation," by the Globe and Mail, Canada's largest newspaper, and "creative and refreshing" by the New York Times, Chester Elton is co-author of several successful leadership books and is an in-demand speaker the world over. Elton's books have been translated into over 20 languages and have sold more than a million copies worldwide. The Carrot Principle by Simon & Schuster has been a regular New York Times and Wall Street Journal bestseller, and 24-Carrot Manager has been called a "must read for modern-day managers" by Larry King of CNN. The Orange Revolution was the number-one selling business book in the United States according to the Wall Street Journal. As a motivation expert, Chester has been featured in The Financial Times, Washington Post, Fast Company and the New York Times. He has been featured on 60 Minutes, CNN, ABC's Money Matters, MSNBC and National Public Radio. Chester has spoken to delighted audiences from Seattle to Singapore and from Toronto to Istanbul. He holds the acclaim of being the highest rated speaker at the national Society for Human Resource Management annual conference (Bill Cosby was the number-two rated speaker). He serves as an employee engagement consultant to firms such as Pepsi, American Express, Madison Square Garden, Avis Budget Group and Texas Roadhouse. However, he is most proud to be the father of four exceptional children.