Wish You Were Here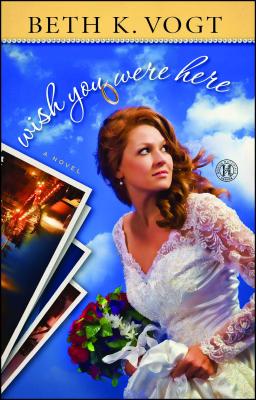 Wish You Were Here
Howard Books, Paperback, 9781451659863, 316pp.
Publication Date: May 1, 2012
* Individual store prices may vary.
Shop Local
Enter your zip code below to find indies closest to you.
Description
Kissing the wrong guy days before her scheduled wedding leads Allison to become a runaway bride. But can it also lead to happily ever after?
Allison Denman is supposed to get married in five days, but everything is all wrong. The huge wedding. The frothy dress. And the groom.
Still, kissing the groom's brother, Daniel, in an unguarded moment is decidedly not the right thing to do. How could she have made such a mistake? It seems Allison's life is nothing but mistakes at this point. Daniel's adventures—chronicled through a collection of postcards—have always appealed to Allison's well-hidden desire for something more. But how can betraying her fiancé's trust lead to a true happily ever after?
Can Allison find her way out of this mess? Recognizing she doesn't have all the answers won't be easy because she's used to being in control. To find her way again, she will have to believe that God has a plan for her—one outside her carefully defined comfort zone—and find the strength to let Him lead.
About the Author
Beth K. Vogt is a nonfiction author and editor who said she'd never write fiction. She's the wife of an air force physician who said she'd never marry a doctor-or anyone in the military. She's a mom of four who said she'd never have kids. She's discovered that God's best often waits behind the doors marked "Never."
Praise For Wish You Were Here…
"I was swept away to the splendor of the Rockies in Wish You Were Here, a lovely debut by Beth K. Vogt. This perfectly paced love triangle has endearing characters and plot twists that kept me turning the pages deep into the night. I loved it!"
-Carla Stewart, award-winning author of Chasing Lilacs and Broken Wings

"Beth Vogt's Wish You Were Here is a heartwarming story of reconciliation and second chances. Her characters charmed me from the first page and had me tearing up by the end of the novel. Beth weaves in spiritual truth that massages the soul while sprinkling in LOL moments to tickle the funny bone. Definitely one for the keeper shelf."
-Lisa Jordan, Author of Lakeside Reunion and Lakeside Family

"Beth K. Vogt creates character, paints personality, and defines drama within a romantic comedy that sparkles with fun. Wish You Were Here will tickle your fancy from the first misplaced kiss to the kiss that lands exactly on the right spot in the end. This could only be the first book of many to come from a sensitive and talented new fiction author."
-Donita K. Paul, bestselling author of the Dragon Keeper Chronicles

"Vogt's writing shines in this contemporary take on a timeless theme. She excels in portraying vibrant characters who grapple with vital questions. Wish You Were Here provides a postcard-perfect glimpse of the courage it takes to really be who you are."
-Siri Mitchell, author of The Cubicle Next Door and She Walks in Beauty

"Beth Vogt is a sparkling, new talent whose Wish you Were Here brims with life, fun, and depth. Allison has acquired the wrong wedding dress, but worse yet, she may have grabbed the wrong groom. I hope you enjoy this book as much as I did. It's always refreshing to find a new voice in Christian fiction that shines!"
-Kristin Billerbeck, author of What a Girl Wants

"Beth Vogt hits a home run with her debut novel, Wish You Were Here. Quirky, snappy, and sweet, it's a story of finding true love that will leave you sighing and smiling."
-Rachel Hauck, bestselling and award-winning author of The Wedding Dress

"One kiss can change everything! Wish You Were Here takes the reader on an emotional journey with Allison Denman as she struggles to find her place in this world. Allison comes to grips with the truth that playing it safe is not the same as living to the fullest—a good lesson for all of us. Beautifully written, Wish You Were Here is a lovely debut novel by Beth K. Vogt that illustrates the plans we make may not be God's choice for us. A fun and satisfying read!"
-Megan DiMaria, author of Searching for Spice

"What a delightful story! From the first line to the last page Beth captivated me with her voice and this charming, funny yet poignant story about letting go of your life and finding the love that's been waiting all along. A fabulous first novel . . . I can't wait for the next by this talented new author!"
-Susan May Warren, Rita Award–winning, bestselling author of The Shadow of your Smile

"Even though there are some snowy Colorado mountain scenes, this fun novel has 'beach read' written all over it. . . . With equal parts drama and comedy, Beth Vogt's debut romance is as heart-tugging as it is funny and it keeps the reader guessing as to what Allison's Happy Ever After will look like up until the very last scene."
-USA Today