The Map of the Sky [With 3-D Glasses]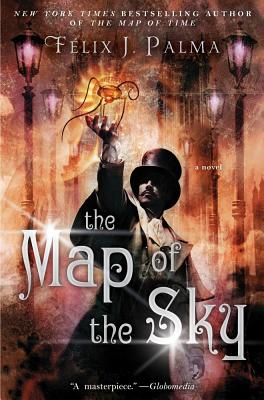 The Map of the Sky [With 3-D Glasses]
Atria Books, Hardcover, 9781451660319, 594pp.
Publication Date: September 4, 2012
* Individual store prices may vary.
Buy at Local Store
Enter your zip code below to purchase from an indie close to you.
or
Not Currently Available for Direct Purchase
Description
The New York Times bestselling author of The Map of Time returns with a mesmerizing novel casting H.G. Wells in a leading role, as the extraterrestrial invasion featured in The War of the Worlds is turned into a bizarre reality.
A love story serves as backdrop for The Map of the Sky when New York socialite Emma Harlow agrees to marry millionaire Montgomery Gilmore, but only if he accepts her audacious challenge: to reproduce the extraterrestrial invasion featured in Wells's War of the Worlds. What follows are three brilliantly interconnected plots to create a breathtaking tale of time travel and mystery, replete with cameos by a young Edgar Allan Poe, and Captain Shackleton and Charles Winslow from The Map of Time.
     Praised for "lyrical storytelling and a rich attention to detail," (Library Journal, starred review), Palma again achieves the high standard set by The Map of Time.
About the Author
Felix J. Palma has been acclaimed by critics as one of the most brilliant and original storytellers of our time. His devotion to the short story genre has earned him more than a hundred awards. "The Map of Time", his first book to be published in the United States, was an instant "New York Times "bestseller and received the prestigious 2008 Ateneo de Sevila XL Prize. It has been published in more than thirty countries. "The Map of the Sky", the second book in the trilogy, also received rave reviews. Palma lives in Spain.

Cesar Aira (b. 1949) was born in Coronel Pringles, Argentina, in 1949. He has published more than seventy books of fiction and essays.
Praise For The Map of the Sky [With 3-D Glasses]…
"The unreal becomes real, fantasy becomes history, and the reader is thoroughly entertained by an unending parade of bafflements and surprises. This book is a complete delight."

-K.W. Jeter author of Infernal Devices


""The Map of the Sky" keeps the reader guessing, checking and thinking, all the while providing many sidelights on the literary history of sci-fi itself."



"This story is much akin to what Orson Welles tried on Halloween, 1938, with his radio show. This time the saucers really fly. All this, simmered in a rich broth of keen imagination, exceptional narrative control, wit, and an obvious affection for sci-fi and adventure stories and with great respect for the readers of same. Cool factor: 3-D end papers. Glasses included with first editions only."



"A cross-genre masterpiece"



"Having used H.G. Wells's The Time Machine as the starting point for 2011's The Map of Time, Palma now takes The War of the Worlds as the basis for this top-notch sequel…Fans of intelligent science fiction as well as historical thrillers will be rewarded."



"Palma's gorgeous prose works its magic yet again...in this worthy successor to The Map of Time."



"Palma writes with shrewdness and glee."



"Palma keeps the reader guessing, and the twists and turns coming."