One Sunday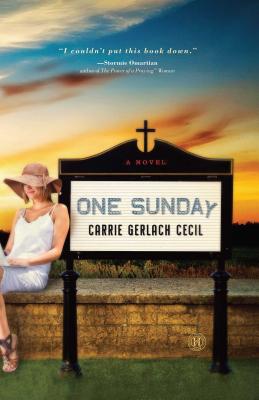 One Sunday
Howard Books, Paperback, 9781451664768, 255pp.
Publication Date: February 12, 2013
* Individual store prices may vary.
Buy at Local Store
Enter your zip code below to purchase from an indie close to you.
or
Not Currently Available for Direct Purchase
Description
In this humorous and heartfelt novel, a beleaguered young woman must shed her career, identity, and power persona to learn how to love and forgive herself, others, and God.
Alice Ferguson is an A-list tabloid editor from Los Angeles who gets pregnant after a one-night stand with a sports doctor from Nashville. When her health takes a nosedive and her unborn child is put at risk, she is forced to pack her Louis Vuitton bags and take a sabbatical from her high-pressure existence in Hollywood and relocate to the heart of Dixie with a man she barely knows.
As she struggles to adjust to her new life, an unlikely friendship with an African-American pastor and his family starts Alice on a touching and surprising spiritual exploration. After months of listening to her new friends asking her to attend church, a meal of fried chicken and angel food cake seals the deal. Alice reluctantly agrees to attend one service to watch her pastor friend put on his weekly show.
Sitting in the very last pew, she internally doubts and mocks the Bible-thumpers, but she also begins to reflect on the incidents in her painful past that have brought her to a life of moral ambiguity. As she learns to let go of the pain and accept herself, Alice goes from making fun of them to possibly being one of them. Equal parts humor and heartbreak, "One Sunday" is Alice's journey to hope, friendship, laughter, tears, inspiration, forgiveness, and the love and peace that come only from God.
About the Author
CARRIE GERLACH CECIL has been creating literary, television, film, online, and live content for over a decade. A sample of her works includes the novels One Sunday and Emily s Reasons Why Not, which was adapted into a single-camera comedy for ABC. She served as a producer on the show. She and her daughter, Charli, created the children s book Charli & Wilbur: A Dancing Dog s Dream and the web-television adventure The Glamper Girls. Cecil contributed to New York Times editor Richard Sandomir s book The Enlightened Bracketologist: The Final Four of Everything. Cecil penned the pilot In the Huddle for Lifetime Television based on her blog Gridiron Woman and produced Divas for Jesus for WE TV. She s written for The Huffington Post and the NFL, and she is a travel correspondent for www.JohnnyJet.com. Cecil is the founder of Anachel Communications, Inc., and she and her husband, NFL defensive coach Chuck Cecil, are principal partners in Unfiltered Faith. For more information, visit www.carriegerlachcecil.com.
Praise For One Sunday…
"I couldn't put this book down."

-Stormie Omartian, author of The Power of a Praying Woman


"One Sunday touched my heart in a deep way that many of us who have looked for love in the wrong places can relate to. This refreshing tale, told with honesty and humor, gives a transparent view of a hurting woman in search of love, healing, and clear direction to her true God-given destiny. It is a wonderful translation of the human condition...the created looking for the Creator."

-Rebecca Nichols Alonzo, speaker and Author of The Devil in Pew Number Seven


"Carrie's story is very real and compelling .The incredible impact of Christ upon her life that is felt in these pages is not fiction, but an authentic testimony of amazing grace. This book is a great gift of hope to anyone who doubts that God cares about their pain."

-Dr. Rice Broocks, Co-founder of Every Nation Church's and Ministries, Bishop of Bethel World


"One Sunday is a novel that takes hold of you. Carrie Gerlach Cecil gives a vivid depiction of the life of Alice Ferguson. This humorous journey paved with rocky roads takes you from dark to darker. Yet, in a realistic way, a beacon of light shines through, which leads to a brighter day. In short, it a story of hope, inspite of hopeless situations. "

-Debbie Winans- Lowe, Gospel Music Artist


"The message of this Christian novel: Jesus loves everyone, and no one is beyond forgiveness"