Letters from the Closet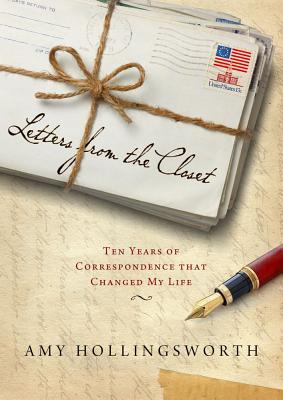 Letters from the Closet
Ten Years of Correspondence That Changed My Life
Howard Books, Hardcover, 9781451666779, 248pp.
Publication Date: May 7, 2013
* Individual store prices may vary.
Buy at Local Store
Enter your zip code below to purchase from an indie close to you.
or
Not Currently Available for Direct Purchase
Description
An honest and poignant look into the deeply intimate yet platonic relationship between a gay English teacher and his young female protegee each seeking connection and acceptance as reflected by the decade of letters they exchanged.
It's "Tuesdays with Morrie" if Morrie were young and gay and Mitch Albom were a woman.
As the years and letters passed between John and Amy, the layers fell off as they explored and unmasked themselves and each other." " A teacher is like a book, John wrote, wasted until he's read. The student has to do that. You ve done that. While going through a period of despair, he wrote, I hope our relationship survives your growing up and my growing down.
Every writer needs a room of his own, but for some people, at certain times and in certain circumstances, the best you can do is a closet. From the confines and protection of his closet, John wrote these letters, letters that were read, cherished, and then locked away for decades in Amy's closet. Now they are chronicled and shared for your enrichment.
***
A Different Kind of Love Story
Timely and relevant, this is a love story of the most contemporary kind. It's a rare and beautiful glimpse into an intimate, but platonic, relationship between a gay English teacher and his young female protegee each seeking connection and acceptance.
Now the student-turned-author looks back at the decade of letters that preceded her teacher's untimely death. She collects the shards left by their clumsy, sometimes violent, attempts to unmask each other and counts the cost of knowing and being known.
Alternating between letter excerpts and a beautiful narrative from Amy, the story unfolds, making readers privy to a very personal tribute to the teacher who profoundly changed her life. As you enter their unveiled world, you ll see truth reflected in their raw insights and you ll discover new revelations for your own life.
About the Author
Amy Hollingsworth is the author of the best-selling The Simple Faith of Mister Rogers and Gifts of Passage. Before writing books, Amy wrote for various magazines and was a television writer for eight years for CBN. In 2010, she was named one of USA Today s Top 100 People for her influence on pop culture and was featured in the documentary by MTV s Benjamin Wagner titled Mister Rogers & Me. Her television appearances include WGN s Morning News, PBS s A Word on Words, and Fox s Morning News. A former psychology professor, Amy lives in Virginia with her husband and children.