Soldier Girls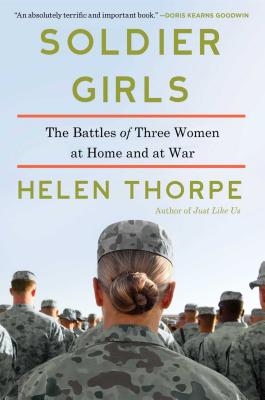 Soldier Girls
The Battles of Three Women at Home and at War
Scribner Book Company, Hardcover, 9781451668100, 416pp.
Publication Date: August 5, 2014
* Individual store prices may vary.
Buy Now
or
Shop Local
Enter your zip code below to purchase from an indie close to you.
Description
From an award-winning, "meticulously observant" ("The New Yorker"), and "masterful" ("Booklist") writer comes a groundbreaking account of three women deployed to Afghanistan and Iraq, and how their military service affected their friendship, their personal lives, and their families.
America has been continuously at war since the fall of 2001. This has been a matter of bitter political debate, of course, but what is uncontestable is that a sizeable percentage of American soldiers sent overseas in this era have been women. The experience in the American military is, it's safe to say, quite different from that of men. Surrounded and far outnumbered by men, imbedded in a male culture, looked upon as both alien and desirable, women have experiences of special interest.
In "Soldier Girls," Helen Thorpe follows the lives of three women over twelve years on their paths to the military, overseas to combat, and back home...and then overseas again for two of them. These women, who are quite different in every way, become friends, and we watch their interaction and also what happens when they are separated. We see their families, their lovers, their spouses, their children. We see them work extremely hard, deal with the attentions of men on base and in war zones, and struggle to stay connected to their families back home. We see some of them drink too much, have illicit affairs, and react to the deaths of fellow soldiers. And we see what happens to one of them when the truck she is driving hits an explosive in the road, blowing it up. She survives, but her life may never be the same again.
Deeply reported, beautifully written, and powerfully moving, "Soldier Girls" is truly groundbreaking.
About the Author
Helen Thorpe was born in London and grew up in Medford, New Jersey. Her journalism has appeared in "The New York Times Magazine", "New York Magazine", and "The Texas Observer". Thorpe has worked for "Texas Monthly", "The New York Observer", and "The New Yorker", where she wrote "Talk of the Town" stories. She is married to John Hickenlooper, the mayor of Denver. "Just Like Us" is her first book.
Sunday, Aug 10, 2014
In spring 2001, Desma Brooks, Michelle Fischer and Debbie Helton signed up for the National Guard expecting just a few days of drills each month. Soldier Girls tells the stories of their deployments. More at NPR.org