Gold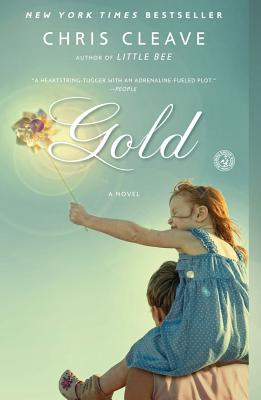 Gold
Simon & Schuster, Paperback, 9781451672732, 321pp.
Publication Date: April 30, 2013
* Individual store prices may vary.
Buy Now
or
Shop Local
Enter your zip code below to purchase from an indie close to you.
Description
IT'S THE ULTIMATE TEST OF A MOTHER'S LOVE . . .
IF your dreams pull you in one direction and your heart in another, which should you follow? This is the question that haunts Kate Meadows, a world champion athlete whose eight-year-old daughter Sophie is battling a recurrence of childhood leukemia just as Kate is about to compete for her last chance at an Olympic gold medal. For years, Kate has sacrificed everything for her family and watched her best friend and closest rival, Zoe Castle, conquer the world stage. Kate has never won gold and will have to go through Zoe—who has everything to lose—to get it. Now her child is facing a life-threatening illness, and the stakes are higher than ever. How can she do what is right for her daughter without abandoning all of her dreams?
About the Author
Chris Cleave is the author of "Everyone Brave Is Forgiven", "Gold", and the #1 "New York Times "bestseller "Little Bee". He lives with his wife and three children in Kingston-upon-Thames, England. Visit him at ChrisCleave.com or on Twitter @ChrisCleave.
Praise For Gold…
"Chris Cleave's latest novel lives and breathes, sweats and suffers at the harrowing place where ambition collides with sacrifice. That it arrives on the eve of the 2012 Olympic Games in London is perfect timing on the part of Cleave and publisher Simon & Schuster, but Gold would be first class anytime, anywhere. It's an adrenaline-fueled drama about winning and losing, in the velodrome and daily existence, an explosive exploration of the cost of success and the way sports competition can spill unhappily into life. It will force you to reconsider the definition of "victory," and it will leave you breathless . . . Cleave proves again that if writing were an Olympic sport, he'd be vying for a medal."—Miami Herald

"Cleave has the extremely rare power of making you smile with lively language and clever observations while he is thoroughly, irreparably breaking your heart."—Newsday (NY)

"In Gold, as with his previous work, Cleave writes with tremendous heart, displaying a keen eye for life's absurdities, sorrows, and triumphs. The story is riveting, the characters unforgettable. Gold has everything you could ask for in a story: adrenaline-soaked racing, wretchedly human decisions, laugh-out-loud moments and quietly heartbreaking ones."—Bookpage

"Chris Cleave is a writer who goes for your throat and doesn't let go. . . . The rivalry that powers the book is the competition between the closely matched Kate and Zoe, which takes place on and off the course. That they also develop a friendship, uneasy and fraught but still real, is a testament to Kate's generosity, as well as Cleave's talent as a writer. He writes women, particularly wounded women, with great empathy and skill."—The Oregonian

"Moving and compelling . . . . The millions of readers of Little Bee can attest that despite the delicacy of his prose, Cleave doesn't deal in half measures or subtle strokes—he goes straight for the heartstrings. Every page of Gold is drenched with an urgency of feeling that generates the same emotional pleasure as a great moment in sports, where we simultaneously witness triumph and failure in the starkest, most dramatic terms. . . . Gold will likely resonate most with readers for the way it unveils the ordinariness surrounding the extraordinary." —Nashville Scene

"Cleave goes for the gold and brings it home in his thrillingly written and emotionally rewarding novel about the world of professional cycling. . . . Cleave expertly cycles through the characters' tangled past and present, charting their ever-shifting dynamic as ultra-competitive Zoe and Kate are forced to decide whether winning means more to them than friendship . . . Cleave likewise pulls out all the stops getting inside the hearts and minds of his engagingly complex characters. The race scenes have true visceral intensity, leaving the reader feeling breathless . . . From start to finish, this is a truly Olympic-level literary achievement."—Publishers Weekly (boxed starred review)

"Cleave's latest novel demonstrates the determination of three extraordinary athletes in a story about true sacrifice. . . . [Their lives are] so intertwined, so complex, that the outcome is sure to be a surprise. Close on the heels of his international best seller Little Bee, British author Cleave has written another story so riveting that it is impossible to put down."—Library Journal (starred review)

"Readers galvanized by best-selling Cleave's previous politically scorching novels (Little Bee, 2009) will be surprised by his foray into the world of Olympic bicycle racing until they discern just how psychologically gripping a tale this is . . . Spanning the Athens, Beijing, and looming London 2012 Olympics, Cleave's brilliantly plotted, nail-biting, and emotional tale dramatizes the anguish and triumphs of ambition and sacrifice, fame and heartbreak to celebrate the true gold of love."—Booklist (starred review)

"Cleave is an acutely intelligent wordsmith. Some of the sentences cut so deep you want to scream out in pain and recognition . . . This is an inspirational and moving novel in so many ways, and everyone should read it."