The Magic of Reality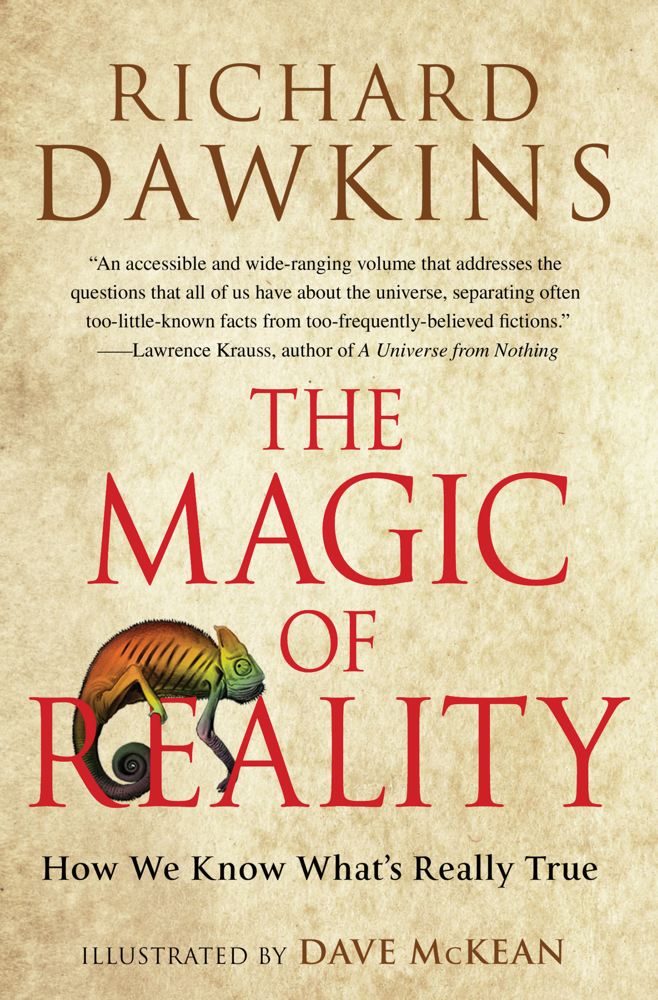 The Magic of Reality
How We Know What's Really True
Free Press, Paperback, 9781451675047, 267pp.
Publication Date: September 11, 2012
* Individual store prices may vary.
Buy at Local Store
Enter your zip code below to purchase from an indie close to you.
or
Buy Here
Description
An elegant, text-only paperback edition of the "New York Times" bestseller that's been hailed as the definitive authority on everything.
Richard Dawkins, bestselling author and the world's most celebrated evolutionary biologist, has spent his career elucidating the many wonders of science. Here, he takes a broader approach and uses his unrivaled explanatory powers to illuminate the ways in which the world really works. Filled with clever thought experiments and jaw-dropping facts, "The Magic of Reality" explains a stunningly wide range of natural phenomena: How old is the universe? Why do the continents look like disconnected pieces of a jigsaw puzzle? What causes tsunamis? Why are there so many kinds of plants and animals? Who was the first man, or woman? Starting with the magical, mythical explanations for the wonders of nature, Dawkins reveals the exhilarating scientific truths behind these occurrences. This is a page-turning detective story that not only mines all the sciences for its clues but primes the reader to think like a scientist as well.
About the Author
Richard Dawkins taught zoology at the University of California at Berkeley and at Oxford University and is now the Charles Simonyi Professor of the Public Understanding of Science at Oxford, a position he has held since 1995. Among his previous books are The Ancestor s Tale, The Selfish Gene, The Blind Watchmaker, Climbing Mount Improbable, Unweaving the Rainbow, and A Devil s Chaplain. Dawkins lives in Oxford with his wife, the actress and artist Lalla Ward.

Dave McKean is best known for his work on Neil Gaiman's Sandman series of graphic novels and for his CD covers for musicians from Tori Amos to Alice Cooper. He also illustrated Neil Gaiman's picture books The Day I Swapped My Dad for Two Goldfish, The Wolves in the Walls, and Crazy Hair. He is a cult figure in the comic book world, and is also a photographer.
Praise For The Magic of Reality…
"I wanted to write this book but I wasn't clever enough. Now I've read it, I am"
—Ricky Gervais



"Exhilarating. The clearest and most beautifully written introduction to science I've ever read. Again and again I found myself saying "Oh! So that's how genes work!" (or stars, or tectonic plates, or all the other things he explains). Explanations I thought I knew were clarified; things I never understood were made clear for the first time. My favourite adjective of praise has always been "clear", and this book has clarity all the way through."
—Philip Pullman, author of The Good Man Jesus and the Scoundrel Christ and the His Dark Materials trilogy



"I am often asked to recommend good books on science for young people. From now on, I will not have to hesitate. The Magic of Reality provides a beautiful, accessible and wide ranging volume that addresses the questions that all of us have about the universe, separating often too-little known facts from too-frequently believed fictions. For this reason it should be a powerful resource for people of all ages, written with the masterful and eloquently literate style of perhaps the best popular expositor of science, Richard Dawkins, and delightfully illustrated by Dave McKean. What more could anyone ask for?"
—Lawrence Krauss is Foundation Professor and Director of the Origins Project at Arizona State University and the author most recently of Quantum Man, and A Universe from Nothing