Notes to the Future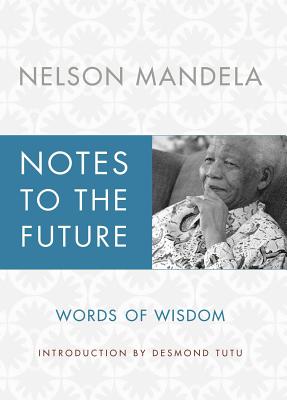 Notes to the Future
Words of Wisdom
Atria Books, Hardcover, 9781451675399, 176pp.
Publication Date: November 20, 2012
* Individual store prices may vary.
Buy Now
or
Shop Local
Enter your zip code below to purchase from an indie close to you.
Description
From the heart and soul of visionary Nobel Peace Prize winner Nelson Mandela, a collection of his most uplifting, time-honored quotes that have inspired our world and offer a path for peace.
" The book that you hold in your hands is nothing short of a miracle. Desmond Tutu, from the Introduction"
The authorized record of Nelson Mandela's most inspiring and historically important quotations
"Notes to the Future "is the definitive book of quotations from one of the great leaders of our time. This collection gathered from privileged access to Mandela's vast personal archive of private papers, speeches, correspondence, and audio recordings features more than three hundred quotations spanning more than sixty years, and includes his Nobel Peace Prize acceptance speech.
These inspirational quotations, organized into four sections Struggle, Victory, Wisdom, and Future are both universal and deeply personal. We see Mandela's sense of humor, his loneliness and despair, his thoughts on fatherhood, and the reluctant leader who had no choice but to become the man history demanded.
***
A good pen can also remind us of the happiest moments in our lives, bring noble ideas into our dens, our blood and our souls. It can turn tragedy into hope and victory.
FROM A LETTER TO ZINDZI MANDELA, WRITTEN ON ROBBEN ISLAND, FEBRUARY 10, 1980.
About the Author
Nelson Mandela was a former President of South Africa, the first to be elected in fully representative democratic elections. He was born in Transkei, South Africa, in 1918. Before his presidency, Mandela was an anti-apartheid activist and leader of the African National Congress. In 1964, he was convicted of crimes including sabotage committed in the struggle against apartheid. He was imprisoned for 27 years at Robben Island prison and Pollsmoor prison. During his incarceration, his reputation as a potent symbol of resistance to apartheid grew steadily. Released from prison in 1990, Mandela received the Nobel Peace Prize in 1993 and was inaugurated as President of South Africa in 1994. He is the author of the internationally bestselling autobiography "Long Walk to Freedom" and "Conversations with Myself", a collection of his personal papers. Mandela died in December 2013.



Claude Colart is a Belgian freelance television producer living in Johannesburg, South Africa, where he runs be-africa productions. He was previously Senior Producer and Deputy Managing Editor for Associated Press Television News. He has travelled extensively in Europe and Africa documenting news and features. He is married to Sahm Venter, a South African freelance journalist who has covered events in Africa for local and international print, radio and television organisation. They produced Something to Write Home About to honour their friends and colleagues who have died and to show the human side of journalists who risk their lives everyday to tell the stories of people throughout the world.

Praise For Notes to the Future…
A stirring collection of quotes from the Nobel Peace Prize winner. The quotes are inspirational and moving, regardless of any prior knowledge. The full script of Mandela's Nobel acceptance speech from 1993 rounds out this brief yet important look into the mind of a man determined to break apartheid regardless of the personal cost.