Pat and Dick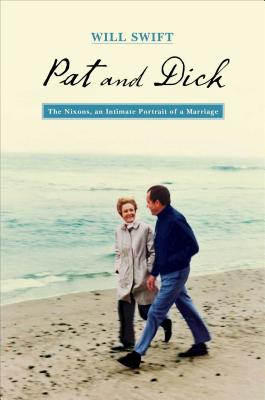 Pat and Dick
The Nixons, an Intimate Portrait of a Marriage
Threshold Editions, Hardcover, 9781451676945, 496pp.
Publication Date: January 7, 2014
* Individual store prices may vary.
Buy at Local Store
Enter your zip code below to purchase from an indie close to you.
or
Buy Here
Description
Shortlisted for the 2015 Plutarch Award for Best Biography, the most humanizing portrait of the Nixons we re likely to have (Douglas Brinkley) is a sweeping depiction of the turbulent fifty-three-year marriage of Richard and Pat Nixon.
When Americans remember the controversial Nixons, they usually focus on the political triumphs, the turbulent White House years, and the humiliating public downfall. But a very different image of the polarizing president emerges in this fascinating portrait of his relationship with Pat. Now, the couple's recently released love letters and other private documents reveal that as surely as unremitting adversity can fray the fabric of a marriage, devotion can propel it to surmount disgrace and defeat.
In "Pat and Dick," biographer Will Swift brings his years of experience as a historian and as a marital therapist to this unique examination of a long-misunderstood marriage. Nixon the man was enormously complicated: brilliant, insecure, sometimes coldly calculating, and capable of surprising affection with his wife.
Much less is known about Pat. With the help of personal writings and interviews with family and friends, Swift unveils a woman who was warm and vivacious, yet much shrewder and more accomplished than she has been given credit for. From Dick's unrelenting crusade to marry the glamorous teacher he feared was out of his league through the myriad crises of his political career, the Nixons story is filled with hopes and disappointments, both intimate and global.
This remarkable biography shows us the couple at their most human: a wife walking a delicate line between self-sacrifice and healthy love while her husband struggles to balance global ambitions and personal intimacy. The Nixons came to represent the best and worst of American life and culture. But though their union was tested by all manner of trials, they managed to find the strength, courage, and resilience to sustain a true connection for more than half a century.
About the Author
Will Swift, Ph.D., is a licensed clinical psychologist, who has been writing about American leaders and British royalty of the nineteenth and twentieth centuries for more than twenty years. He is the author of The Roosevelts and the Royals, which Blanche Wiesen Cook called "a splendid addition to our understanding of the extraordinary Anglo-American partnership," and which Arthur Schlesinger, Jr., called "an excellent book." Will Swift lives in New York City and at the Nathan Wild House in Valatie, New York.