The Cleaner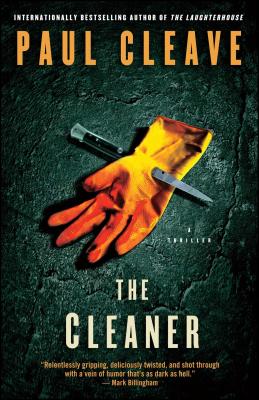 The Cleaner
Atria Books, Paperback, 9781451677799, 387pp.
Publication Date: December 11, 2012
* Individual store prices may vary.
Buy Now
or
Shop Local
Enter your zip code below to purchase from an indie close to you.
Description
An international bestseller and one of the top-selling novels in New Zealand's history, Paul Cleave's dark thriller is a brilliant, bloody masterpiece.
Joe is in control of everything in his simple life both his day job as a janitor for the police department and his night work. He isn t bothered by the daily news reports of the Christchurch Carver, who, they say, has murdered seven women. Joe knows, though, that the Carver killed only six. He knows that for a fact, and he's determined to find the copycat. He ll punish him for the one, then frame him for the other six. It's the perfect plan because he already knows he can outwit the police.
All he needs now is to take care of all the women who keep getting in his way, including his odd, overprotective mother and Sally, the maintenance worker who sees him as a replacement for her dead brother. Then there's the mysterious Melissa, the only woman to have ever understood him, but whose fantasies of blackmail and torture don't have a place in Joe's investigation.
Originally published in 2006 in Cleave's native New Zealand, where it was a finalist for the prestigious Ned Kelly Award for Best Fiction, "The Cleaner "is a chilling and darkly funny thriller that will leave you clamoring for his next.
About the Author
Paul Cleave is the author of eight award-winning, internationally bestselling crime thrillers, including "Joe Victim", finalist for the Edgar, Barry, and Ngaio Marsh awards, and, most recently, "Five Minutes Alone. "He lives in Christchurch, New Zealand. Visit his website at PaulCleave.com.
Praise For The Cleaner…
"An innovative book, dark and quirky."



"An intense adrenalin rush from start to finish, I read The Laughterhouse in one sitting. It'll have you up all night. Fantastic!"

-S.J. Watson


"An intense and bloody noir thriller, one often descending into a violent abyss reminiscent of Thomas Harris, creator of Hannibal Lecter."



"A wonderful book.... The final effect is that tingling in the neck hairs that tells us an artist is at work."



"Cleave is a master of evoking the view askew; delving into the troubled psyches of conflicted characters. Former cop and convict Theo Tate, stumbling forward in search of some sort of redemption, returns to the scene of his first crime scene, hunting a killer and kidnapper set on revenge. Ferocious storytelling that makes you think and feel. A blood-stained high point in Cleave's already impressive oeuvre."



"Paul Cleave writes the kind of dark, intense thrillers that I never want to end. Do yourself a favor and check him out."

-Simon Kernick


"Relentlessly gripping, deliciously twisted and shot through with a vein of humor that's as dark as hell."

-Mark Billingham