Godwink Stories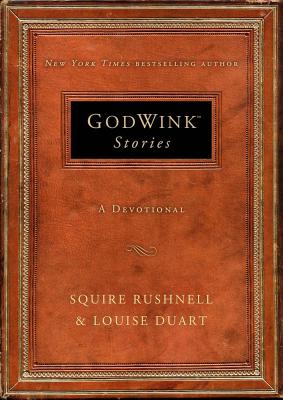 Godwink Stories
A Devotional
Howard Books, Hardcover, 9781451678567, 246pp.
Publication Date: December 4, 2012
* Individual store prices may vary.
Buy at Local Store
Enter your zip code below to purchase from an indie close to you.
or
Buy Here
Description
Building on the themes in his wildly popular book "GodWinks," SQuire Rushnell teaches how to seize certainty in uncertain times, enriching your career and relationships.
"Building on the themes in his popular book "When God Winks," SQuire Rushnell shares real-life stories that are certain to uplift and encourage you. "
The stories in this book reaffirm that godwinks happen to "everyone." We just need to learn how to see them, allow them to unfold, and accept them as direct, person-to-person communications from God to each of us.
As you ll see, those so-called coincidences that you d been dismissing so easily really do mean something. And you need to pay attention. They are like unopened "gifts "that have been placed upon your doorstep.
You will be amazed to read how every joy, every hurt, and every worry that happens to you has already been written about in the Bible. "Godwink Stories "simply draws upon the parallel between the stories of real people and God's wisdom in the scriptures.
"Godwink Stories "can be read in various ways. You can read the book cover to cover. Or follow along each week for a year. It's also perfect to read for a pick-me-up story that fits your need of the day.
Whether you re looking for encouragement in a time of need or a story that speaks of joy, there's a godwink story just for you.
***
"Godwink Stories "offers weekly readings of "godwinks "and "miracles "to encourage and inspire you in every situation. These true stories from ordinary people provide
"Messages of don t give up "
"Heartfelt need for love and guidance"
"Hope in the midst of medical crises"
" Just in time moments"
"Peace in times of sorrow"
"Tender love stories"
"Amazing answers to prayer.
About the Author
Squire Rushnell, a former television president and CEO, was for twenty years an executive with the ABC Television Network. Father of such programs for young people as "Schoolhouse Rock" and the ABC Afterschool Specials, he also led "Good Morning America" to the number-one spot. Author of the word-of-mouth phenomena "When God Winks," Squire lives in Martha's Vineyard with his wife, Louise.

Louise DuArt is known as one of the world s best comedic impressionists and has costarred with Tim Conway and Harvey Korman in sold-out performances for fifteen seasons. Clean and funny, Louise executes fast-paced conversations between herself with Bart Simpson, Judge Judy, Barbra Streisand, Barbara Walters, and dozens more. A popular Women of Faith speaker, Louise has coauthored three books with her husband, SQuire. She hosted a popular daily talk show on the ABC Family channel for eight seasons, "Living the Life", and has starred in various Broadway productions, garnering rave reviews.