Manology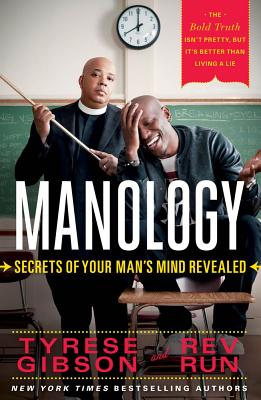 Manology
Secrets of Your Man's Mind Revealed
Touchstone Books, Hardcover, 9781451681840, 258pp.
Publication Date: February 5, 2013
* Individual store prices may vary.
Buy at Local Store
Enter your zip code below to purchase from an indie close to you.
or
Not Currently Available for Direct Purchase
Description
Rev Run of Run DMC and Tyrese Gibson offer insight on life, love, exposing men and the many games they play, and how to finally find happiness in your relationships.
Tyrese and Rev are unlikely best friends--Rev is married with six kids and Tyrese is a single dad still hesitant to settle down. But after an unexpected disagreement in which Rev insisted that marriage is forever, and Tyrese pushed that you could bail when the sex went bad, the two decided not just to agree to disagree but to team up and open their debate to a larger audience. Even though they're at different points in their journeys, both have clear insights on what it takes to make a relationship work and what can sink it instantly.
"Manology "is a guide to regaining your relationship confidence and weeding out the cheaters, MANipulators, and pimps from the good men. Just follow Tyrese and Rev's advice and finally understand the reasons behind your man's actions. Some men's behavior can't be changed, but it's better to face the truth. No matter how painful or distressing that truth might be, if you know it, you can confront it and move past it. Tyrese and Rev acknowledge that it can be difficult for men to open up, but they present real strategies for men and women to have honest and open discussions about relationship expectations.
With Rev's hard-earned knowledge on what it takes to make a marriage work, and Tyrese's sometimes uncomfortable but always straight talk on the single man's mind-set, "Manology "is your one true source of knowledge to help you take control of your love life and truly understand your man.
About the Author
Tyrese Gibson, also known simply as "Tyrese," is a dynamic figure in entertainment today who has had huge success as a multi-platinum and Grammy nominated R&B singer, songwriter, actor, bestselling author, and television producer. After the release of several critically acclaimed and award-winning albums, he transitioned into films, including "Baby Boy", "2 Fast 2 Furious", "Fast Five", and the "Transformers "trilogy. Gibson also created the bestselling comic book, "Mayhem". His most recent music endeavor, "Open Invitation", debuted at #1 and included the hit single, "Stay," which remained #1 for 11 consecutive weeks. Gibson's first book, "How to Get Out of Your Own Way", instantly became a "New York Times" bestseller.

Rev Run, a.k.a. Joseph Simmons, is one of the founding members of the pioneering hip-hop group, Run-DMC. His hit MTV show, "Run's House", aired for six seasons. Starring alongside his wife Justine and their six children, Run became America's favorite father and a model of family values, humor, and spirituality. He is the author of "Words of Wisdom" and the coauthor with his wife of "Take Back Your Family". Run's daily inspirational words of wisdom are followed by nearly 3,000,000 people on Twitter and have established him as a thought leader in the world of social media.

Chris Morrow is the author of "Stir It Up: Reggae Album Cover Art" and has written about hip-hop and politics for numerous publications, including "The Source" and "The New York Daily News". A resident of Brooklyn, New York, he has been working as a speechwriter for Russell Simmons since 2003.
Praise For Manology…
"It has often been said that it takes a man to raise a man. With MANOLOGY Tyrese and Rev Run are proving another point; it takes men to tell women the truth about men. As a woman, I'm grateful for the insight. What a blessing! —Iyanla Vanzant, New York Times bestselling author and host of OWN's Fix My Life
"The age old discussion of roles and expectations in the new world of relationships has a new blueprint: it's called MANOLOGY." —Vin Diesel
"Ladies if you want to get to the bottom of what men are really thinking and feeling, than you need to check out MANOLOGY!" —Sanaa Lathan, Tony award nominated actress
"This is not an ordinary book. The relationship insight on these MANOLOGY pages can't be compared to anything out there. It is a true masterpiece." —La La and Carmelo Anthony
"The streets are talking, MANOLOGY is a funny, engaging, and honest look at how we move as men that could have only come from Tyrese and Rev Run's bond." —Chris "Ludacris" Bridges
"Secret truths about men: seek here and ye shall find! Read this triumph of a book and watch your relationship change!" —Bishop Kenneth C. Ulmer, DMin, PhD, Faithful Central Bible Church Los Angeles
"Just make sure you're ready, MANOLOGY will shed light on many uncomfortable things in your relationship." —Quincy Jones
"MANOLOGY is a true story of insight, bold honesty, and redemption. Thank you to Rev Run and Tyrese for sharing it with us."

-Bernice King


"An unlikely bromance between two reformed playas becomes the source of an in-depth look at the ways of philandering men… entertaining and enlightening."