The Great Bridge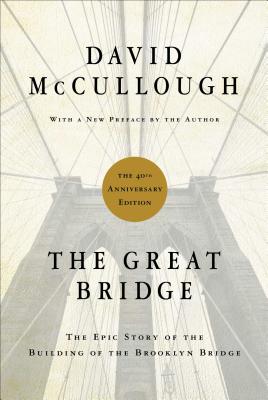 The Great Bridge
The Epic Story of the Building of the Brooklyn Bridge
Simon & Schuster, Hardcover, 9781451683233, 605pp.
Publication Date: May 15, 2012
* Individual store prices may vary.
Buy at Local Store
Enter your zip code below to purchase from an indie close to you.
or
Buy Here
Description
The dramatic and enthralling story of the building of the Brooklyn Bridge, the world's longest suspension bridge at the time, a tale of greed, corruption, and obstruction but also of optimism, heroism, and determination, told by master historian David McCullough.
This monumental book is the enthralling story of one of the greatest events in our nation's history, during the Age of Optimism a period when Americans were convinced in their hearts that all things were possible.
In the years around 1870, when the project was first undertaken, the concept of building an unprecedented bridge to span the East River between the great cities of Manhattan and Brooklyn required a vision and determination comparable to that which went into the building of the great cathedrals. Throughout the fourteen years of its construction, the odds against the successful completion of the bridge seemed staggering. Bodies were crushed and broken, lives lost, political empires fell, and surges of public emotion constantly threatened the project. But this is not merely the saga of an engineering miracle; it is a sweeping narrative of the social climate of the time and of the heroes and rascals who had a hand in either constructing or exploiting the surpassing enterprise.
About the Author
David McCullough has been widely acclaimed as a "master of the art of narrative history," "a matchless writer." He is twice winner of the National Book Award, twice winner of the Pulitzer Prize. In December 2006 he received the Presidential Medal of Freedom, the nation's highest civilian award.
His books have been praised for their scholarship, their understanding of American life, their "vibrant prose," and insight into individual character. Mr. McCullough's most recent book, "1776", the number one "New York Times" national bestseller in both hardcover and paperback, has been called, "brilliant...powerful," "a classic." There are three million copies in print, while Mr. McCullough's previous work, "John Adams", remains one of the most critically acclaimed and widely read American biographies of all time. It is presently in its sixty-third printing.
"John Adams", a seven-part mini-series on HBO begins March 16. Produced by Tom Hanks, it stars Paul Giamatti and Laura Linney.
In the words of the citation accompanying his honorary degree from Yale, "As an historian, he paints with words, giving us pictures of the American people that live, breathe, and above all, confront the fundamental issues of courage, achievement, and moral character."
Mr. McCullough's other books include "The Johnstown Flood, The Great Bridge, The Path between the Seas, Mornings on Horseback, Brave Companions, " and "Truman". His work has been published in ten languages and, in all, nearly 9,000,000 copies are in print. As may be said of few writers, none of his books has ever been out of print.
David McCullough is as well twice winner of the prestigious Francis Parkman Prize, and for his work overall he has been honored by the National Book Foundation Distinguished Contribution to American Letters Award and the National Humanities Medal. He has been elected to the American Academy of Arts and Sciences, as well as the American Academy of Arts and Letters and has received more than forty honorary degrees.
In a crowded, productive career, he has been an editor, essayist, teacher, lecturer, and familiar presence on public television -- as host of "Smithsonian World, The American Experience", and narrator of numerous documentaries including "The Civil War". His is also the narrator's voice in the movie "Seabiscuit".
A gifted speaker, Mr. McCullough has lectured in all parts of the country and abroad, as well as at the White House. He is also one of the few private citizens to speak before a joint session of Congress.
Born in Pittsburgh, Mr. McCullough was educated there and at Yale, where he was graduated with honors in English literature. He is an avid reader, traveler, and has enjoyed a lifelong interest in art and architecture. He is as well a devoted painter. Mr. McCullough and his wife Rosalee Barnes McCullough have five children and eighteen grandchildren.
His current project is a book about Americans in Paris, from the 1830's to 1930's.
Praise For The Great Bridge…
"The impact of the soaring structure upon the American imagination and American life has now been measured with sagacity and style by David McCullough. . . . The Great Bridge is a book so compelling and complete as to be a literary monument, one of the best books I have read in years. McCullough has written that sort of work which brings us to the human center of the past."

—Robert Kirsch, Los Angeles Times

"The Great Bridge is a great book. . . . What David McCullough has written is a stupendous narrative about the building of the Brooklyn Bridge, with a cast of thousands (give or take 100), whose major characters come alive on the page as authentically, as creatively, as would their fictional counterparts if one had the imagination to dream up such a yarn. Once again, truth is not only stranger than fiction but a hell of a lot more entertaining. Get your hands on The Great Bridge. . . . This is the definitive book on the event. Do not wait for a better try: there won't be any."

—Norman Rosten, Newsday

"David McCullough has taken a dramatic and colorful episode out of the American past and described it in such a way that he sheds fresh light on a whole era in American history."

—Bruce Catton

"After reading David McCullough's account, you will never look at the old bridge in quite the same way again."

—Christopher Lehmann-Haupt, The New York Times

"McCullough is one of our most gifted living writers."

—Marie Arana, The Washington Post