Three Graves Full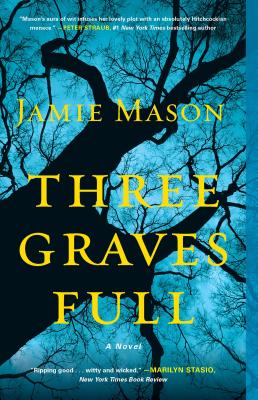 Three Graves Full
Gallery Books, Paperback, 9781451685046, 307pp.
Publication Date: August 20, 2013
* Individual store prices may vary.
Buy at Local Store
Enter your zip code below to purchase from an indie close to you.
or
Buy Here
Description
There is very little peace for a man with a body buried in his backyard. But it could always be worse. . . .

More than a year ago, mild-mannered Jason Getty killed a man he wished he'd never met. Then he planted the problem a little too close to home. But just as he's learning to live with the real­ity of what he's done, police unearth two bodies on his property—neither of which is the one Jason buried. . . .
About the Author
Jamie Mason was born in Oklahoma City and grew up in Washington, DC. She s most often reading and writing, but in the life left over, she enjoys films, Formula 1 racing, football, traveling, and, conversely, staying at home. Jamie lives with her husband and two daughters in the mountains of western North Carolina.
Praise For Three Graves Full…
"Mason hooks the reader with her first sentence, "There is very little peace for a man with a body buried in his backyard." Even less when the bodies keep piling up, but their provenance remains murky. An astonishingly accomplished debut."
-Booklist

"Ripping good novel…Mason has a witty and wicked imagination, yet she's also responsive to the pains of inarticulate people…"

Portraying characters so well and so thoroughly, examining and explaining their motives even for murder, requires a level of skill that is rare, marking this as an astonishingly accomplished debut and Mason as a writer to watch very closely.

"Jamie Mason wields a pen that magically blends beautiful prose with unrelenting thrills. Each page delivers something new and fresh; in her hands, even the mundane becomes extraordinary. Grab a chair with a comfortable edge, because Mason will keep you poised there until the final page."
—Alex Adams, author of White Horse

"Three Graves Full is something special - an offbeat, high-class, pacey mystery that blends black humor with dark lyricism, and deft, intricate plotting with dead-on psychological insight. This is a gem of a debut."
—Tana French, author of In the Woods

"Three Graves Full is an astonishing debut novel, smart and stylish and wonderfully light on its feet. Jamie Mason writes crisp, surprising sentences, and this aura of wit infuses her lovely plot with an absolutely Hitchcockian menace. I think she was probably born to be a writer, and I eagerly look forward to whatever she will do next."

—Peter Straub, New York Times bestselling author

Mason's quirky debut novel deftly weaves dark humor into a plot that's as complicated as a jigsaw puzzle but more fun to put together...Mason's written a dandy of a first outing with not a single boring moment.

Mason strides confidently into Coen brothers territory with her highly entertaining, solidly plotted debut about loneliness and the need for companionship... With sly wit Mason tweaks genre clichés while respecting crime fiction tenets.

An extraordinary debut novel that ensnares the reader in its web of suspense and ratchets up the anxiety with each chapter...Three Graves Full is deep and dark, yet funny, a refreshing combination that snags the reader like a grappling hook—destined to become a success.
-John M. Wills

Filled with biting wit and great prose style, Three Graves Full by newcomer Jamie Mason may be the debut of the year.

Mason's prose is at times as lovely as poetry, and wry humor deftly offsets her grim tale to devastating effect. This tale has more twists than a corkscrew and you'll find yourself surprised at nearly every turn... Mason has written a quirky and downright thrilling treat that is not to be missed.
-Kristin Centorcelli

Not simply a great debut novel or a noble first effort; it is purely a wonderful book from beginning to end.... Pitch-perfect pacing, unforgettable descriptions, and quirky but realistic characters abound from page to page. It is a perfect one-sit read, not because there aren't places where you can comfortably stop, but because you simply will want to keep forging ahead... Take the hint and read it.
-Joe Hartlaub

"A delightful frolic in a mysterious and unpredictable tour de force of horrific efforts by a debut author. When it gets really weird, it is like quicksand, sucking you deeper. Peppered with delightful asides that made me chuckle, no good deed goes unpunished. Great twists and turns that will keep you on the edge of your seat until the very last page. "
-Clay Stafford

"...slick, fast-paced and moves to it's conclusion with an inevitably that appears unstoppable."
-Words and Pieces

"A grieving fiancé, a vindictive murderer and a police detective who won't accept simple answers drive a tale of blunders, violence and, remarkably, something like justice."
-Portland Book Review