Chop Chop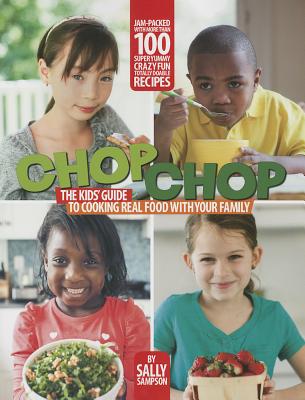 Chop Chop
The Kids' Guide to Cooking Real Food with Your Family
Simon & Schuster, Paperback, 9781451685879, 185pp.
Publication Date: August 13, 2013
* Individual store prices may vary.
Buy Now
or
Shop Local
Enter your zip code below to purchase from an indie close to you.
Description
Winner of the International Association of Culinary Professionals Cookbook Award in the Children/Youth/Family category, "ChopChop" offers simple, healthy, and delicious dishes for children and parents to make together.
Cooking at home helps kids stay healthy, builds family relationships, and teaches math, science, and cultural and financial literacy. That's why "ChopChop" is your family's best friend and it's jam-packed with kitchen basics, ingenious tips, and meals that taste great and are fun to make.
Every recipe has been approved by the Academy of American Pediatrics and by real kids cooking at home. These dishes are nutritious, ethnically diverse, inexpensive, and a joy to prepare. From French toast to fajitas, and from burgers to brownies, "ChopChop" entertains and inspires cooks of all ages.
About the Author
Sally Sampson is the author of The Bake Sale Cookbook and The $50 Dinner Party, and co-author of several books, including The Olives Table, The Figs Table, and The Olives Dessert Table with Todd English. She also co-wrote The Occidental Tourist with acclaimed Boston chef Stan Frankenthaler. She is a senior writer for Cook s Illustrated and has been a contributor to Bon Appetit, Food & Wine, Fine Cooking, Self, The Boston Globe, Boston Magazine, Mode, and Microsoft s online magazine Boston Sidewalk. Sampson has appeared on The Early Show and QVC.
Sampson lives with her family in Watertown, Massachusetts.

Sally Sampson is the author and coauthor of numerous cookbooks, including the James Beard Award-nominated "The $50 Dinner Party, Throw Me a Bone" (with Cooper Gillespie) and "The Olives Table" (with Todd English). She has contributed to "Self, Bon AppEtit, Food & Wine, The Boston Globe, Boston magazine" and "The Boston Phoenix." She lives with her family in Watertown, Massachusetts.
Praise For Chop Chop…
"What makes ChopChop so great is not only Sampson's choice of subject, appealing and respectful design and language, bright colors and surprisingly sophisticated food photography; it's her (and her editors') choice of recipes. . . . Sampson [is] doing preventive medicine. Because cooking reduces obesity and reducing obesity reduces disease."
-Mark Bittman

"ChopChop is introducing a generation of children (and their parents) to cooking, establishing a healthy lifestyle from the start. Keep a copy in your kitchen."
-David Ludwig, MD, PhD

"[ChopChop] is ideal. It has lively graphics, a bright (but not saccharine) tone, and modern, realistic recipes."
-Julia Moskin

"Plant the seeds of cooking enthusiasm in the young, and give them the gift of a lifetime. ChopChop imparts the joy of kitchen fluency to our next generation with a crisp, inviting design, an inspiring, encouraging voice, and broadly appealing recipes."
-Mollie Katzen

"ChopChop has made my son love math (measuring ingredients); chemistry (that's cooking!) and good, nutritious food. Most of all, he loves the spirit that ChopChop embodies: Intelligent, healthy fun. It's wonderful."
-Susan Orlean