Forty Chances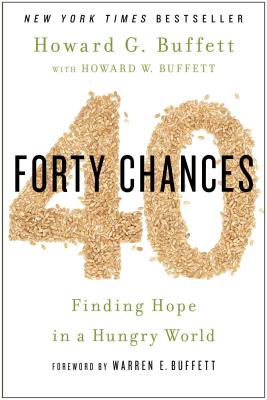 Forty Chances
Finding Hope in a Hungry World
Simon & Schuster, Hardcover, 9781451687866, 443pp.
Publication Date: October 22, 2013
* Individual store prices may vary.
Buy at Local Store
Enter your zip code below to purchase from an indie close to you.
or
Not Currently Available for Direct Purchase
Description
With a foreword by Warren Buffett, "40 Chances "is an "inspiring manifesto...both an informative guidebook and a catalyst for igniting real changes" ("Booklist") in the struggle against world hunger.
If someone granted you $3 billion to accomplish something great in the world, what would you do? In 2006, legendary investor Warren Buffett posed this challenge to his son Howard G. Buffett. Howard set out to help the most vulnerable people on earth--nearly a billion individuals who lack basic food security. And Howard gave himself a deadline: forty years to put the resources to work on this challenge.
"40 Chances: Finding Hope in a Hungry World" captures Howard's journey. Beginning with his love for farming, we join him around the world as he seeks out new approaches to ease the suffering of so many. Each of the forty stories here provides a compelling look at the lessons Howard learned, ranging from his own backyard to some of the most difficult and dangerous places on Earth. But this message goes beyond the pages of this book, it's also a mindset: a way of thinking that speaks to every person wanting to make a difference. It's about reasons to hope and actions we can take. "40 Chances" "recounts Howard's personal and professional experiences in surprisingly candid and colorful fashion...successfully blending personal stories with a tough look at the struggle to fight domestic food scarcity and world hunger...A satisfying read" ("Publishers Weekly") that provides inspiration to transform each of our limited chances into opportunities to change the world.
About the Author
Howard G. Buffett is the President of the Howard G. Buffett Foundation. A farmer, businessman, politician, photographer, and philanthropist, he has dedicated his life to wildlife conservation and finding solutions to world hunger. He is a United Nations Goodwill Ambassador Against Hunger, and serves on the corporate boards of Berkshire Hathaway, the Coca-Cola Company, and Lindsay Corporation. His son, Howard W. Buffett, has authored several of the stories in "40 Chances" and accompanied his father to developing countries around the world.



JANET LOWE is an investment writer and author who has written several business and biographical works, including the bestseller Warren Buffett Speaks as well as Welch: An American Icon and The Man Who Beats the S&P: Investing with Bill Miller (all published by Wiley). Ms. Lowe is a past editor of the San Diego Daily Transcript and financial editor of the San Diego Tribune. More than 200 of her business articles have appeared in such publications as Newsweek, the Christian Science Monitor, the Los Angeles Times, and the San Francisco Chronicle.
Praise For Forty Chances…
"The Jewish Talmud teaches that if you save one life you save the entire world. Howard Buffett has lived this prescription, and in the process has saved the world many times over. 40 Chances illustrates that his commitment and passion to help folks out of poverty, at home and especially in the developing world, has had a remarkable and measurable impact on the lives of farmers and rural citizens worldwide. 40 Chances should be a primer for all our citizens on how one man has the passion to save the world, and how we can all follow his lead in our own way."
-Secretary Dan Glickman

"Whether we are driving his combine in Illinois, meeting with farmers in Guatemala, walking across the border from Mexico to the US, or indulging in our shared loved for Dairy Queen, a day spent with Howard Buffett is one spent learning and laughing. Howard's intellect is only surpassed by the size of his heart. This book will give readers a chance to learn from him in the way that I have and form their own plan for making the most of the 40 Chances we all have."
-Eva Longoria, Actress and Philanthropist

"This book is like Howard himself: inspiring, positive, and full of great stories. If you ever find yourself doubting that we can change the world for the better, read this and your optimism will return."
-Tony Blair

"Howard has three passions: his devotion to the fight against hunger and misery; his love for farming; and his ability as a photographer and writer to share his amazing journey. Through the stories in 40 Chances, Howard invites all of us to join his efforts to fight poverty."
-Carlos Slim