Survivors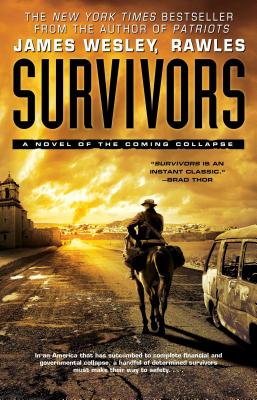 Survivors
A Novel of the Coming Collapse
Pocket Books, Paperback, 9781451690248, 382pp.
Publication Date: September 11, 2012
* Individual store prices may vary.
Buy Now
or
Shop Local
Enter your zip code below to purchase from an indie close to you.
Description
This lightening-paced instant "New York Times" bestseller about survival in America after an apocalyptic economic crash asks the question: What if the world as we know it ended tomorrow?
The America we are accustomed to is no more. Practically overnight the stock market has plummeted, hyperinflation has crippled commerce, and the fragile chains of supply and high-technology infrastructure have fallen. The power grids are down. Brutal rioting and looting grip every major city. The volatile era known as the Crunch has begun, and this new period in our history will leave no one untouched. In this unfamiliar environment, only a handful of individuals are equipped to survive. The world of Survivors is a terrifyingly familiar one. Rawles has written a novel so close to the truth, readers will forget it's fiction. If everything you thought you knew suddenly fell apart, would you survive?
About the Author
James Wesley, Rawles has been an enthusiastic survivalist since his teenage years. He is now a survivalist author and lecturer and the editor of www.SurvivalBlog.com. He has a Bachelor of Arts degree from San Jose State University with minor degrees in military science, history, and military history. A former U.S. Army intelligence officer who held a Top Secret security clearance (with Special Background Investigation) and access to Sensitive Compartmented Information (SCI), he was awarded Officer specialty 35A (tactical all-source intelligence officer), and the additional skill identifier 5M (electronic warfare officer). He achieved the rank of Captain, attended the Army NBC defense officer's course, as well as Northern Warfare School at Fort Greeley, Alaska.
Praise For Survivors…
"Rawles is an amazingly gifted author who has singlehandedly reignited the post-apocalyptic thriller. Survivors is an instant classic." --Brad Thor, #1 New York Times bestselling author of Full Black



"An incredible tale." --AmongTheLeaves.com



"'Survivors', painting a realistic picture of life with no plan to survive the harsh realities of a crash, has given me a glimpse into how the other half lives, and how I can further prepare to help my fellow man." --Paratus Familia Blog


"It's 370 pages of adventure, excitement, and page-turning thrills." --If it Hits the Fan



"It embodies the American spirit of independence and survival." --NoisyRoom.net



"Rawles' Survivors is well worth reading. . . well-written and informative, and speaks with an honesty and bluntness often missing from the policy prognotications of the political elite." --The New American