When the Rogue Returns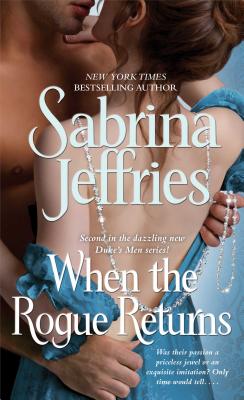 When the Rogue Returns
Pocket Books, Mass Market Paperbound, 9781451693485, 368pp.
Publication Date: January 21, 2014
* Individual store prices may vary.
Buy Now
or
Shop Local
Enter your zip code below to purchase from an indie close to you.
Description
USA TODAY BESTSELLING AUTHOR SABRINA JEFFRIES SHINES BRIGHTLY WITH THIS SPLENDID NEW SERIES
"They are the Duke's Men" an investigative agency born from family pride and irresistible passion, risking their lives--and sometimes their hearts--as they unravel shocking deceptions and scandalous transgressions
Victor Cale never imagined that his sweet, shy bride, Isabella, would use her talent for creating exquisite imitation jewels in a criminal way. But there's no denying that Isa's handiwork was used in the brazen heist of the Dutch royal family's diamonds--after she disappeared into the night.
Ten years later, still reeling from her betrayal and enraged that her duplicitous side was so undetectable, Victor is sent to Edinburgh to investigate a wealthy baron's mysterious brideto- be. Simple enough--until the "fiancee" proves to be Isa, masquerading as an alluring young widow.
No longer the meek and mild girl he once knew, the bold woman vehemently asserts that it was Victor who abandoned her after he helped steal the royal diamonds Piecing together the truth of the past reawakens their volatile passion, which burns hotter than ever. But with a decade of secrets between them, Victor and Isa must trust each other in order to bring the real thieves to justice--without getting burned themselves.
About the Author
By the time SABRINA JEFFRIES was eighteen, she d eaten chicken heads and jellyfish, been chased by a baby elephant, seen countless cobras and pythons, had the entire series of rabies shots, and visited rain forests and rubber plantations. But that wasn t enough excitement for her; to escape her mundane life as a missionary s daughter, she read romance novels. Now she writes romance novels, and her bestselling, award-winning tales of strong women and sexy, dangerous men have been translated all over the world. Although she now lives a quiet life in North Carolina with her husband and son, her colorful past has given her plenty of inspiration for more novels.