Tip and the Gipper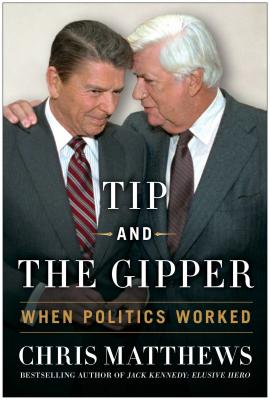 Tip and the Gipper
When Politics Worked
Simon & Schuster, Hardcover, 9781451695991, 423pp.
Publication Date: October 1, 2013
* Individual store prices may vary.
Not Currently Available for Direct Purchase
or
Shop Local
Enter your zip code below to purchase from an indie close to you.
Description
From the author of the New York Times bestseller Jack Kennedy—and Tip O'Neill's former chief-of-staff—comes the firsthand, one-of-a-kind story of the friendship between President Reagan and the Speaker of the House.
They were the political odd couple—the two most powerful men in the country, a pair who, in author Chris Matthews's words, "couldn't be more different or more the same." For six years Matthews was on the inside, watching the evolving relationship between President Ronald Reagan and Speaker of the House Tip O'Neill. Their philosophies were miles apart—Reagan intent on scaling back government, O'Neill fervent in defending it. Yet there was common ground too: long lunches shared on St. Patrick's Day and a mutual respect—political and personal. Three days after Reagan's shooting, Tip was the first outsider at the president's bedside.

Drawing not only on his own remarkable knowledge but on extensive interviews with those closest to his subjects, Matthews brings this unlikely friendship to life in his unique voice, rendering as lively and novelistic a read as Jack Kennedy and a timely object lesson in how bipartisan cooperation can work.
About the Author
Chris Matthews is anchor of MSNBC s"Hardball". He is author of "Tip and the Gipper";" Jack Kennedy: Elusive Hero";" Kennedy and Nixon";" Now, Let Me Tell You What I Really Think";" American: Beyond Our Grandest Notions"; "Hardball: How Politics Is Played by One Who Knows The Game"; and "Politicians: The Backroom World They Never Show Us".