Four Summoner's Tales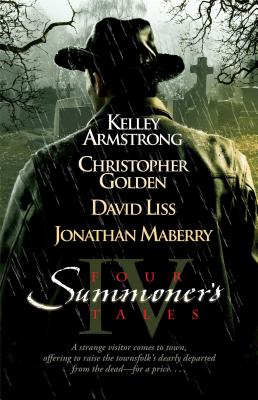 Four Summoner's Tales
Gallery Books, Paperback, 9781451696684, 324pp.
Publication Date: September 17, 2013
* Individual store prices may vary.
Shop Local
Enter your zip code below to find indies closest to you.
Description
Four Bestselling Authors. One Hellraising Premise.

What if the dead could be summoned from their graves- for a price? What if a quartet of distinctive storytellers took a stab at this deceptively simple idea- on a date? The answers lie here, in Four Summoner's Tales, as these acclaimed writers accept the challenge and rise to the occasion- in four brilliantly chilling ways. It's all in the execution…
About the Author
When librarians finally granted Kelley Armstrong an adult card, she made straight for the epic fantasy and horror shelves. She spent the rest of her childhood and teen years happily roaming fantastical and terrible worlds, and vowed that someday she'd write a story combining swords, sorcery, and the ravenous undead. That story began with the New York Times bestselling Sea of Shadows and continues with Empire of Night.
Armstrong's first works for teens were the New York Times bestselling Darkest Powers and Darkness Rising trilogies. She lives in rural Ontario with her husband, three children, and far too many pets.
Christopher Golden is a New York Times bestselling author of novels for adults and teens, including Of Saints and Shadows, The Myth Hunters, The Boys Are Back in Town, Strangewood, and the Body of Evidence series of teen thrillers. He has cowritten two previous illustrated novels with Mike Mignola, the first of which, Baltimore, or, The Steadfast Tin Soldier and the Vampire, was the launching pad for the Eisner-nominated comic book series Baltimore. His current work-in-progress is a graphic novel trilogy collaboration with Charlaine Harris. As an editor, he has worked on the short-story anthologies The New Dead, The Monster s Corner, and 21st Century Dead, among others, and has also written and cowritten comic books, video games, and screenplays. Golden was born and raised in Massachusetts, where he still lives with his family. His original novels have been published in more than fourteen languages in countries around the world.
David Liss is the author of A Spectacle of Corruption, A Conspiracy of Paper (winner of the 2000 Edgar Award for Best First Novel), and The Ethical Assassin. He has a graduate degree in English literature from Columbia University, as well as an M.A. from Georgia State University and a B.S. from Syracuse University. He lives in San Antonio with his wife and daughter.