When Thunder Comes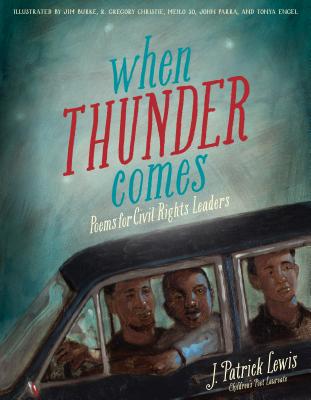 When Thunder Comes
Poems for Civil Rights Leaders
Chronicle Books (CA), Hardcover, 9781452101194, 44pp.
Publication Date: December 2012
* Individual store prices may vary.
Buy Now
or
Shop Local
Enter your zip code below to purchase from an indie close to you.
Description
In moving verse, Children's Poet Laureate J. Patrick Lewis gives new voice to seventeen heroes of civil rights. Exquisitely illustrated by five extraordinary artists, this commanding collection of poems invites the reader to hear in each verse the thunder that lies in every voice, no matter how small. Featuring civil rights luminaries Coretta Scott King, Harvey Milk, Mohandas Gandhi, Nelson Mandela, Sylvia Mendez, Aung San Suu Kyi, Mamie Carthan Till, Helen Zia, Josh Gibson, Dennis James Banks, Mitsuye Endo, Ellison Onizuka, Jackie Robinson, Muhammad Yunus, James Chaney, Andrew Goodman, and Michael Schwerner.
About the Author
J. Patrick Lewis has authored more than fifty books of poetry for children. In 2011, he was named the Children s Poet Laureate by the Poetry Foundation and was given the NCTE Excellence in Children's Poetry Award. He lives in Westerville, Ohio.Visit his website at www.jpatricklewis.com.

Jim Burke is the author of the Heinemann title What's the Big Idea? The question he's always tried to answer is "How can we teach our students better?" He began this search in his own classroom at Burlingame High School in California, where he still teaches. He shares his experiences there in bestselling professional titles with Heinemann such as The English Teacher's Companion; Reading Reminders; and Writing Reminders as well as through Heinemann Professional Development Services. Looking to his peers for still more answers, he founded the English Companion Ning, described by Education Week as "the world's largest English department." Jim continues to find and support best practices in many other ways, including serving on national commissions related to adolescent literacy and standards, such as the Advanced Placement English Literature and Language Course and Exam Review Commission with the College Board, and by being a senior author on the Holt McDougal Harcourt Literature series. Jim has received numerous awards, including the NCTE Intellectual Freedom Award, the NCTE Conference on English Leadership Award, and the California Reading Association Hall of Fame Award. He served on the National Board for Professional Teaching Standards Committee on Adolescence and Young Adulthood English Language Arts Standards and recently worked with ACT on their high school English Language Arts standards. In 2007, he participated in the national Adolescent Literacy Coalition roundtable and worked with the Partnership for 21st Century Skills. Visit his website (www.englishcompanion.com) for more information.

R. Gregory Christie is a Coretta Scott King Honor Award-winner and a Theodor Seuss Geisel Award recipient. He lives in Brooklyn, New York. Please visit his website to learn more: www.gas-art.com.
Praise For When Thunder Comes…
"An unusual introduction to groundbreaking activists and to the profound impact of individuals standing together."-- Book Links, 2013 Lasting Connections

New York Public Library 100 Titles for Reading and Sharing 2013

"Offers readers a profound understanding of both what it takes to stand up and what happens when we stand together." - Booklist, Starred Review

"Must-have literary treasure" - Reading Today

"Lewis's surprising and welcome integration of lesser-known individuals provides a holistic and enlightening look at an always pertinent topic." - Publishers Weekly , starred review

"Lewis isn't phoning this one in. These poems are straight up honest-to-god works of poetry." - Elizabeth Bird, A Fuse#8 Production, a School Library Journal Blog

"J. Patrick Lewis has done justice to this list of heroes-and make no mistake, these are heroes. " - The Book Aunt

"Inspirational" - Kirkus Reviews