The Startup Playbook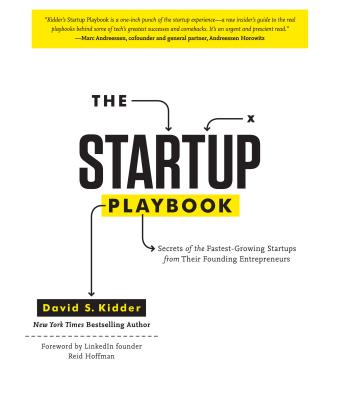 The Startup Playbook
Secrets of the Fastest-Growing Startups from Their Founding Entrepreneurs
Chronicle Books (CA), Hardcover, 9781452105048, 291pp.
Publication Date: January 2, 2013
* Individual store prices may vary.
Buy at Local Store
Enter your zip code below to purchase from an indie close to you.
or
Buy Here
Description
According to the Kauffman Index of Entrepreneurial Activity, more than 565,000 new businesses were created in 2010 in the United States alone each one of them hoping to strike gold. The Startup Playbook will help them succeed. Going insider to insider with unprecedented access, New York Times bestselling author and Clickable CEO, David Kidder, shares the hard-hitting experiences of some of the world's most influential entrepreneurs and CEOs, revealing their most closely held advice. Face-to-face interviews with 40 founders give readers key insights into what it took to build PayPal, LinkedIn, AOL, TED, Flickr, and many others into household names. Special sections include topics ranging from how to select the right idea to pursue to finding funding and overcoming inevitable obstacles. In an economy demanding change, The Startup Playbook is the go-to for entrepreneurs big and small.
About the Author
David S. Kidder is a serial entrepreneur, co-author of the bestselling Intellectual Devotional books, and the recipient of the Ernst and Young's Entrepreneur of the Year Award. He lives in Westchester, New York, with his wife and three sons. His website can be found at www.thestartupplaybook.com
Praise For The Startup Playbook…
"The world needs more entrepreneurs. By taking the hard part of building a business so seriously, this book should help more people get to the fun part-success. David Kidder brings both a writer's mind and a startup veteran's urgency to an entertaining and useful trip inside the minds of today's most successful creators of organizations-both for profit and for purpose." - David Kirkpatrick, founder, host, and CEO, Techonomy Media; author of The Facebook Effect

"Bravo! David Kidder's latest book is a gift to aspiring entrepreneurs. His interviews with our era's most successful startup players reveal what we need to know about turning dreams into businesses that last. Readers will benefit from the Playbook's practical advice and the inspiration in every story." - Wenda Harris Millard, president and COO, MediaLink; former co-CEO, Martha Stewart Living; former chief marketing officer, Yahoo

"Kidder, a serial entrepreneur and bestselling author of the Intellectual Devotional series, has assembled what can best be described as the perfect coffee-table book of collective entrepreneurial wisdom. He set out to collect key ideas that have inspired the world's greatest entrepreneurs and asked a number of wunderkinds to explain "key practices, behaviors, and ideas" that allowed them to succeed. Aggregated, the critical ideas expressed are know thyself; keep the focus on your big ideas; build a painkiller, not a vitamin; be 10 times better than the competition; and be a monopolist. The participants-including such luminaries as Steve Case of AOL, Robin Chase of Zipcar, Scott Harrison of Charity: Water, Jay Walker of Priceline, Sara Blakely of Spanx, and many others-provide their advice in the form of a playbook and offer pearls of wisdom such as running lean, firing people when they lose faith in your ideas, and staying ahead of the game. The sheer range of projects and ideas makes this an inspiring look at the process behind the successful startup plan." - Publishers Weekly

"Is entrepreneurship in your blood? If yes, then this is your family album." - Peter Thum, founder and CEO, Fonderie 47; founder, Ethos Water

"From technological entrepreneurs to social entrepreneurs, The Startup Playbook features important tips from top American innovators that will change the way you think about your job, your business, and maybe even your industry." - Alexis Maybank, cofounder and chief strategy officer, Gilt Groupe

"David Kidder writes from experience and passion about what it means to succeed from startup to successful enterprise. Whether old company or new, big or small, Kidder reminds us of the entrepreneurial spirit that can propel many great companies and nations." - Beth Comstock, senior vice president and chief marketing officer, GE

"David Kidder is a master at getting people to reveal themselves. These are all entrepreneurs I have heard from before, but David somehow got them to expose things about themselves-and to distill lessons from their experiences-which no one else has been able to do." - Laurel Touby, founder, www.mediabistro.com

"David Kidder has curated, aggregated, and synthesized an opus for the entrepreneur-whether current or aspiring. The openness with which these great entrepreneurs shared their experiences and insights is an invaluable asset conveniently packaged by Kidder. The Startup Playbook is not some trendy tech book that captures the zeitgeist of the moment, but rather a timeless, actionable reference tool to be read and re-read and kept within reach." - Terence Kawaja, founder and CEO, LUMA Partners

"By shedding light on the insights of top entrepreneurial minds, David Kidder breaks down the secrets to startup success in simple and actionable terms. The diverse mix of entrepreneurs and the thoughtfully posed questions make for an engaging and inspiring read." - Jennifer Fleiss, cofounder, Rent the Runway