A Compendium of Collective Nouns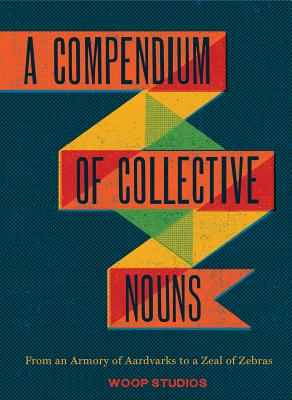 A Compendium of Collective Nouns
From an Armory of Aardvarks to a Zeal of Zebras
Chronicle Books (CA), Hardcover, 9781452108230, 236pp.
Publication Date: September 17, 2013
* Individual store prices may vary.
Buy at Local Store
Enter your zip code below to purchase from an indie close to you.
or
Buy Here
Description
This illustrated guide compiles over 2,000 collective nouns and brings them to life in stunningly colorful, graphic artwork from the design dynamos at Woop Studios. Chock-full of treasures of the English language, the diversity of terms collected here covers topics from plants and animals (a parade of elephants, an embarrassment of pandas) to people and things (a pomposity of professors, an exultation of fireworks) and range from the familiar (a pride of lions) to the downright obscure (an ooze of amoebas). Pronunciations, definitions, etymologies, and historical anecdotes make this beautiful book an entertaining read, a standout reference, and a visual treat. Language lovers and art appreciators alike will be captivated by this gem, rich in word and image.
About the Author




Harriet Logan is one of Britain's most intrepid photographers. Well known for tackling tough stories, she has photographed diverse subjects, including AIDS victims, prostitutes around the world, and emergency rooms and trauma units. Her work has appeared world-wide in the London Sunday Times Magazine, Fortune, Marie Claire, and Elle. Logan won the two premier U.K. awards for Young Photographer of the Year, the Ian Parry and David Hodge Awards, as well as a special award for magazine photographer at the 1999 Picture Editors' Awards and the 2000 Vic Odden Award from the Royal Photographic Society. Logan's photographs have been exhibited in Perpignan, France; London; Los Angeles; and other cities around the world. A member of Network Photographers since1994, she lives in London with her husband, Andy, and her two children, Jackson and Freddie.