Vader's Little Princess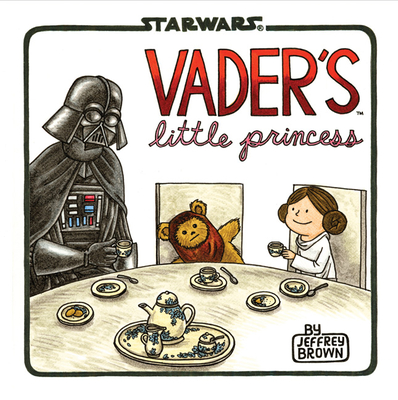 Vader's Little Princess
Chronicle Books (CA), Hardcover, 9781452118697
Publication Date: April 23, 2013
* Individual store prices may vary.
Buy Now
or
Shop Local
Enter your zip code below to purchase from an indie close to you.
Description
In this irresistibly funny follow-up to the breakout bestseller Darth Vader and Son, Vader Sith Lord and leader of the Galactic Empire now faces the trials, joys, and mood swings of raising his daughter Leia as she grows from a sweet little girl into a rebellious teenager. Smart and funny illustrations by artist Jeffrey Brown give classic Star Wars moments a twist by bringing these iconic family relations together under one roof. From tea parties to teaching Leia how to fly a TIE fighter, regulating the time she spends talking with friends via R2-D2's hologram, and making sure Leia doesn't leave the house wearing only the a skirted metal bikini, Vader's parenting skills are put hilariously to the test.
Praise For Vader's Little Princess…
" 7 out of 10 stars. Released with perfect timing for Father's Day, this is a great little present for the Rebel or Imperial father in any family."
- Starburst Magazine

One of the "Great Illustrated Books of 2013"
-Chicago Tribune

Holiday Gift Guide Pick- Geeks of Doom

Holiday Gift Guide Pick- Ain't It Cool News

Father's Day Gift Guide Pick
"Leading the Galactic Empire is cake compared to raising a teenage girl. A follow-up to the best-selling Darth Vader and Son, this sweet, funny graphic novel imagines Darth Vader's fatherhood trials and tribulations with a coming-of-age Leia."
-Daily Candy

"if anyone wants to buy me a Mother's Day gift. I'm just saying. This would be perfect."
- Mommyish.com

"hilarious"
- Game Informer Magazine

"When Vader stares down Princess Leia asking "What exactly is it that you do?" Brown captures the impenetrability of knowing one's parents. Sounds like a stretch, perhaps. And yet his "Vader" books capture the everyday push-pull between parents and kids - oppressor and rebel, you might say - so thoughtfully and cleverly, the 'Star Wars' stuff recedes at times."
- Chicago Tribune

"We can tell you that it's seriously cute.
-The Mary Sue

"This small collection of drawings will delight any Star Wars fan."
-North Shore News

"This is a must-have book for any Star Wars fan"
- Nerdist

"Last year, talented artist Jeffrey Brown delivered a massive hit with his charming re-imagining of the relationship between the Dark Lord of the Sith and his four-year-old son Luke Skywalker. Now, he repeats his success with another illustrated outing focusing on Darth Vader and his daughter Princess Leia. The cover, for example, shows the Star Wars villain having to sit through a toy tea party with Leia and her stuffed Ewok. Throughout the book, the put-upon dad has to suffer through many of his daughter's annoying teenage demands, from dating undesirables to sitting through a horrible ballet performed by Jar Jar Binks. Especially wonderful is a wistful one where the Sith master gets misty remembering how sweet and innocent Leia used to be when she was a little girl. Chronicle has also published a must-have Postcard edition of Darth Vader and Son ($9.95). The two volumes make thoughtful gifts for all the Star Wars fanatics in your life-or anyone who grew up loving MAD magazine's clever spoofs of pop culture icons."
-Animation Magazine

"Jeffrey Brown's new book of Star Wars-inspired cartoons is a must-have for any fan. "
-USA Today's Pop Candy

"Jeffrey Brown has once again done the impossible - he has proven that Star Wars-based comedy can be fresh, irreverent and deeply funny. Whether or not you have (or want) kids of your own, this is essential reading."
-Geekadelphia

"It's delightful. As the father of two girls, I can relate to Vader's frustrations and sometimes helplessness in the face of a strong-willed daughter. Sometimes, the Force just isn't enough."
- GeekDad.com

"It isn't always all about Luke. For Star Wars fanatics, a hilarious look at Darth Vader raising a pint-sized Princess Leia-and all the parenting trials (saying no to the metal bikini, for one) that go with it."
- Real Simple

"If you're a 'Star Wars' fan, a parent, or both, Vader's Little Princess will speak to you, reassuring you that even if you had complete mystical mastery over The Force and the awe and respect of legions of stormtroopers -- being a parent is still the most daunting and rewarding task of all."
-The Trades

"If this wasn't a Star Wars book, I'd still buy it, because Jeffrey Brown is great. But it is also a Star Wars book, and a sequel at that. Brown's funny, touching, and incisive view of parenthood under the guise of a pop culture dalliance is worth your time and money, and I can't wait to place it next to its predecessor on the shelf."
-iFanboy

"I know Jeffrey Brown's Vader and Son was a big success because everyone to whom I showed it, loved it. However, as the father of a 4-year-old girl I'm looking forward even more to Vader's Little Princess. Maybe there'll be a cartoon about little Leia inexplicably belting out 'Call Me Maybe'."-
- Comic Book Resources

"Heartwarming is a word bandied about a bit much, to the point where it has lost currency. So let me be clear here that I am not using it lightly. Vader's Little Princess is as heartwarming as it is hilarious, with the power to believably cast one of cinema's all-time great villains as a believable, fallible, embarrassed and embarrassing Dad. This book is equal parts love letter to Star Wars and tribute to the wonder, emotions, and trials of parenthood...Both funny and touching, Vader's Little Princess shows again that Jeffrey Brown is as good at making this kind of book as he is the autobiographical, indie comix for which he was once better known. Not to be missed."
-Comic Buzz

"Have an intergalactic storytime with your mini Padawan. Check out the amusingly clever Vader's Little Princess"
-Parents Magazine

"Vader's Little Princess is one of those books that had me turning to my husband after every page and announcing, 'This is so going to be you in a few years!' Darth Vader calling up warm and fuzzy feelings of parental camaraderie in the face of raising a daughter? That's what makes this book so awesome...This is a hilarious and surprisingly insightful take on fathers and daughters. I felt for Vader a little bit by the end."
-Geek Mom

"Vader's Little Princess is an imaginative book that you won't want to miss"
- Lansing State Journal

"Vader's Little Princess is a perfect book to give to a little geek girl, as artwork is fun to look at, and the words easy to read for young readers. Together with Darth Vader and Son, these two little books belong on any nerd's shelf, and Star Wars fans are missing out if they don't pick up a copy of each."
-Nerdspan

"Darth Vader and Son was so successful and superb, that the next book Vader's Little Princess has hit stands this week to much rejoicing from fans. Following a similar theme to the first book, Vader's Little Princess focuses on the relationship between Darth Vader and Leia, as she goes through her 'rebellious' teens. Both Darth Vader and Son and Vader's Little Princess are...definitely worth the Imperial credits."
-Bleeding Cool

" The joys, frustrations, and awkward moments are all played out with a lot of truth, and adding the Dark Lord of the Sith being the parent is just a delightful twist...It's a delight to see the Dark Lord of the Sith dealing with a feisty teenager, and parents and kids will immensely enjoy this book for Father's Day and every day of the year."
School Library Journal