This Is Ridiculous This Is Amazing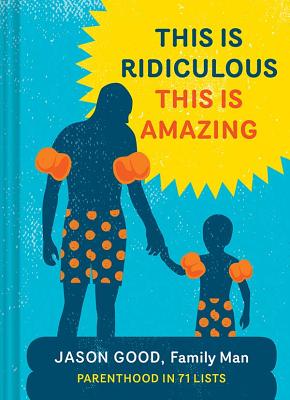 This Is Ridiculous This Is Amazing
Parenthood in 71 Lists
Chronicle Books, Hardcover, 9781452129211, 144pp.
Publication Date: May 2014
* Individual store prices may vary.
Buy Now
or
Shop Local
Enter your zip code below to purchase from an indie close to you.
Description
Blogging sensation and family man Jason Good delivers a laugh-out-loud reminder that everything is easier and more fun when approached with a sense of humor especially parenting. Each list captures a perfect (or perfectly terrible) aspect of parenthood while wholeheartedly embracing every moment: "You Deserve a Break" offers ideas for downtime, such as giving blood and untangling cords, while "Self-Help from a Three-Year-Old" collects such wisdom as "If you fall down, stay down. Someone will pick you up eventually." Sweet, sincere, and oh-so-true, this is the ideal gift for parents who could use a laugh. And isn't that every single one of them?
About the Author
Jason Good is the writer and comedian behind jasongood.net, a blog dedicated to the funny and touching stuff about family life and, specifically, about being a father and a husband. He contributes to various magazines, including GQ and Parents, and has appeared on the Today Show and Comedy Central's Live at Gotham, among other comedy shows. He is also the author of a children's picture book that is based on his viral blog post titled "Approximately 3 Minutes Inside the Head of My 2-Year-Old."