Two Years Before the Mast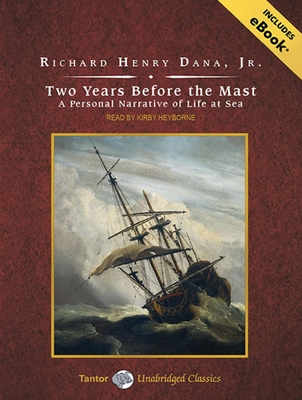 Two Years Before the Mast
A Personal Narrative of Life at Sea
Tantor Media Inc, Compact Disc, 9781452600314
Publication Date: December 2010
* Individual store prices may vary.
Shop Local
Enter your zip code below to find indies closest to you.
Description
Two Years Before the Mast is a book by the American author Richard Henry Dana, Jr., written after a two-year sea voyage starting in 1834 and published in 1840.While at Harvard College, Dana had an attack of the measles that affected his vision. Thinking it might help his sight, Dana, rather than going on a Grand Tour as most of his fellow classmates traditionally did (and unable to afford it anyway), and being something of a nonconformist, left Harvard to enlist as a common sailor on a voyage around Cape Horn on the brig Pilgrim. He returned to Massachusetts two years later aboard the Alert (which left California sooner than the Pilgrim). He kept a diary throughout the voyage, and, after returning, he wrote a book based on his experiences. Recognized as an American classic, Two Years Before the Mast was published the same year that Dana was admitted to the bar.
About the Author
Richard Henry Dana Jr. (1815-1882) was an American lawyer and politician from Massachusetts, a descendant of an eminent colonial family who gained renown as the author of the American classic, the memoir Two Years Before the Mast. Both as a writer and as a lawyer, he was a champion of the downtrodden, from seamen to fugitive slaves. Dana was born in Cambridge, Massachusetts on August 1, 1815 into a family that had settled in colonial America in 1640, counting Anne Bradstreet among its ancestors. In July 1831, Dana enrolled at Harvard College, where in his freshman year his support of a student protest cost him a six month suspension. In his junior year, he contracted measles, which in his case led to ophthalmia. Fatefully, the worsening vision inspired him to take a sea voyage. But rather than going on a fashionable Grand Tour of Europe, he decided to enlist as a merchant seaman, despite his high-class birth. On August 14, 1834 he departed Boston aboard the brig Pilgrim bound for Alta California, at that time still a part of Mexico. This voyage would bring Dana to a number of settlements in California (including Monterey, San Pedro, San Juan Capistrano, San Diego, Santa Barbara, Santa Clara, and San Francisco). After witnessing a flogging on board the ship, he vowed that he would try to help improve the lot of the common seaman. After graduating from law school, he went on to specialize in maritime law, writing The Seaman's Friend in 1841 - which became a standard reference on the legal rights and responsibilities of sailors - and defending many common seamen in court. He had kept a diary during his voyages, and in 1840 he published a memoir, Two Years Before the Mast. The term, "before the mast" refers to sailors' quarters, which were located in the forecastle (the ship's bow), officers' quarters being near the stern. His writing evidences his later social feeling for the oppressed. With the California Gold Rush later in the decade, Two Years Before the Mast would become highly sought after as one of the few sources of information on California.

Kirby Heyborne is an accomplished actor, musician, and comedian who has received a number of "AudioFile" Earphones Awards for his audiobook narrations. He has had starring roles in over a dozen features and many short films. Kirby is also a cofounder and director of the Los Angeles based improv comedy group The Society.
Praise For Two Years Before the Mast…
"Possesses...the romantic charm of Robinson Crusoe." ---Ralph Waldo Emerson