Project Rebirth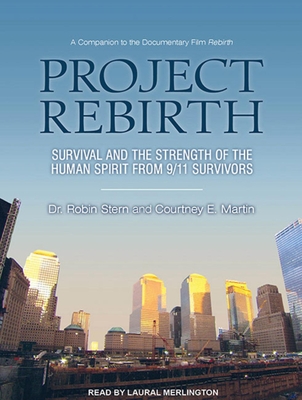 Project Rebirth
Survival and the Strength of the Human Spirit from 9/11 Survivors
Tantor Audio, Compact Disc, 9781452633923
Publication Date: August 18, 2011
* Individual store prices may vary.
Buy Now
or
Shop Local
Enter your zip code below to purchase from an indie close to you.
Description
The images of the burning towers, the heartbroken friends building memorials, the minute-by-minute accounts of the horrors of that day-all are indelibly etched on our collective consciousness. But what of those left behind after 9/11? What have they, and we, learned from the gift of time?In Project Rebirth, a psychologist and a journalist examine the lives of eight people who were directly affected by the events of September 11, 2001. Written concurrently with the filming of a forthcoming documentary, it is uniquely positioned to tackle the questions raised about how people react in the face of crippling grief, how you maintain hope for a future when your life as you knew it is destroyed, and the amazing ability of humans to focus on the positive aspects of day-to-day living in the face of tragedy.The project follows people dedicated to rebuilding, both physically and emotionally. Spirituality, resilience, and hope are at the center of their stories. Brian, who lost his firefighter brother, spent two years working at Ground Zero and then helped to rebuild the PATH train station. Tanya, who lost her fiance on 9/11, finds new love, new life, and joy as a mother in the years following, all doors she thought closed to her forever.Not a book that recounts the events of that day, and not a book about grief, Project Rebirth is a book about resilience and finding inner peace.
About the Author
Dr. Robin Stern is a psychoanalyst, educator, and the author of "The Gaslight Effect", as well as one of the lead facilitators of the Inner Resilience Program.

Courtney E. Martin is a 2002 recipient of the Elie Wiesel Prize in Ethics and the author of books including "Perfect Girls, Starving Daughters" and "Do It Anyway".

Laural began working in regional theater as an actor at the age of 17. She has done over 20 years of stage work, and 16 years of audio book narration, having narrated over 100 titles in all genres. In addition, Laural has directed well over 100 audio titles, providing expertise on both sides of the microphone. In acknowledgement for years of excellence at her craft, Laural has received AudioFile's 'Earphones Award' many times over.