No Biking in the House Without a Helmet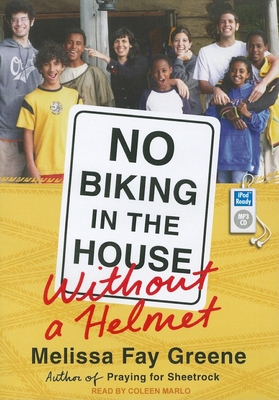 No Biking in the House Without a Helmet
Tantor Media Inc, MP3 CD, 9781452651880
Publication Date: April 2011
* Individual store prices may vary.
Buy Now
or
Shop Local
Enter your zip code below to purchase from an indie close to you.
Description
When the two-time National Book Award finalist Melissa Fay Greene confided to friends that she and her husband planned to adopt a four-year-old boy from Bulgaria to add to their four children at home, the news threatened to place her, she writes, "among the greats: the Kennedys, the McCaughey septuplets, the von Trapp family singers, and perhaps even Mrs. Feodor Vassilyev, who, according to the Guinness Book of World Records, gave birth to sixty-nine children in eighteenth-century Russia."Greene is best known for her books on the civil rights movement and the African HIV/AIDS pandemic. But Melissa and her husband have also pursued a more private vocation: parenthood. When the number of children hit nine, Greene took a break from reporting. She trained her journalist's eye upon events at home. Fisseha was riding a bike down the basement stairs; out on the porch, a squirrel was sitting on Jesse's head; vulgar posters had erupted on bedroom walls; the insult niftam (the Amharic word for "snot") had led to fistfights; and four non-native-English-speaking teenage boys were researching, on Mom's computer, the subject of "saxing.""At first I thought one of our trombone players was considering a change of instrument," writes Greene. "Then I remembered: they can't spell."Using the tools of her trade, she uncovered the true subject of the "saxing" investigation, inspiring the chapter "Everything You Always Wanted to Know About Sex, but Couldn't Spell."A celebration of parenthood; an ingathering of children, through birth and out of loss and bereavement; a relishing of moments hilarious and enlightening No Biking in the House Without a Helmet is a loving portrait of a unique twenty first-century family as it wobbles between disaster and joy.
About the Author
Melissa Fay Greene's books, PRAYING FOR SHEETROCK and THE TEMPLE BOMBING, both were National Book Award finalists, winning numerous other awards. SHEETROCK appeared on the "J" list of the top 100 works of journalism of the 20th century. Greene has written for The New Yorker, Newsweek, New York Times, Washington Post, The Atlantic, and Life.
She lives in Atlanta with her husband and six children.

"AudioFile" Earphones Award winner Coleen Marlo has earned numerous "Publishers Weekly" Listen-Up Awards and won an Audie Award for her narration of "Snakewoman of Little Egypt" by Robert Hellenga.
Praise For No Biking in the House Without a Helmet…
"An upbeat chronicle of a life that has been lived on the bright side of the road, its ruts beveled by naked love." ---Kirkus