The Road to Freedom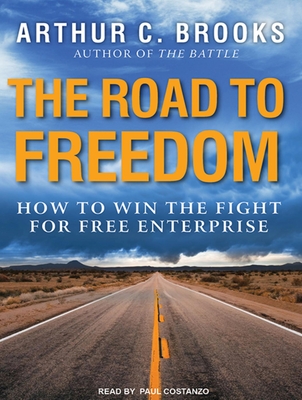 The Road to Freedom
How to Win the Fight for Free Enterprise
Tantor Audio, MP3 CD, 9781452658537
Publication Date: June 25, 2012
* Individual store prices may vary.
Buy at Local Store
Enter your zip code below to purchase from an indie close to you.
or
Buy Here
Description
Entrepreneurship, personal responsibility, and upward mobility: These traditions are at the heart of the free enterprise system, and have long been central to America's exceptional culture. In recent years, however, policymakers have dramatically weakened these traditions-by exploding the size of government, propping up their corporate cronies, and trying to reorient our system from rewarding merit to redistributing wealth.In The Road to Freedom, American Enterprise Institute president Arthur C. Brooks shows that this trend cannot be reversed through materialistic appeals about the economic efficiency of capitalism. Rather, free enterprise requires a moral defense rooted in the ideals of earned success, equality of opportunity, charity, and basic fairness. Brooks builds this defense and demonstrates how it is central to understanding the major policy issues facing America today.The future of the free enterprise system has become a central issue in our national debate, and Brooks offers a practical manual for defending it over the coming years. Both a moral manifesto and a prescription for concrete policy changes, The Road to Freedom will help Americans in all walks of life translate the philosophy of free enterprise into action, to restore both our nation's greatness and our own well-being in the process.
About the Author
Arthur C. Brooks is president of the American Enterprise Institute, where he is also the Beth and Ravenel Curry Scholar in Free Enterprise. Until 2009, he was the Louis A. Bantle Professor of Business and Government Policy at Syracuse University. Before entering academia, he spent twelve years as a professional French hornist with the City Orchestra of Barcelona and other ensembles. Mr. Brooks is a contributing opinion writer for the New York Times and the author of ten books, most recently the 2012 bestseller The Road to Freedom. He is a native of Seattle and currently lives in Maryland with his wife, Ester, and their three children.

Educated at Juilliard, Paul Costanzo brings the sensitivity and nuance of a classical music background to his twenty-five-plus years of voice acting, and AudioFile magazine has called his narration "superb."
Praise For The Road to Freedom…
"It is true, but insufficient, to argue that free enterprise makes us better off. Arthur Brooks makes the indispensable point that it also makes us better. Having stumbled far down the road to serfdom, we are much in need of Brooks' trenchant case for a change of course." ---P. J. O'Rourke