The Injustice System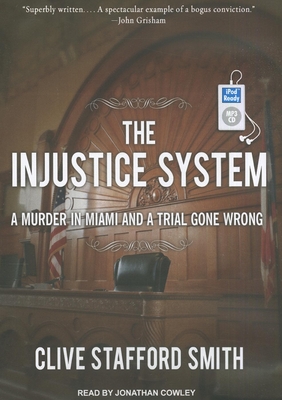 The Injustice System
A Murder in Miami and a Trial Gone Wrong
Tantor Media Inc, MP3 CD, 9781452660011
Publication Date: November 8, 2012
* Individual store prices may vary.
Buy at Local Store
Enter your zip code below to purchase from an indie close to you.
or
Buy Here
Description
A man accused of a murder he didn't commit languishes on death row. A crusading lawyer is determined to free him. This powerful book reads like a compelling legal thriller with one crucial difference: Justice is not served in the end.In 1986, Kris Maharaj was arrested in Miami for the murder of his ex-business partner. A witness swore he saw him pull the trigger and a jury found him guilty and sentenced him to death. But he swears he didn't do it. Twenty years later, he's bankrupted himself on appeals and been abandoned by everyone but his wife.Enter Clive Stafford Smith, a charismatic public defender with a passion for lost causes who calls up old files and embarks on his own investigation. It takes him from Miami to Nassau to Washington as he uncovers corruption at every turn. Step by step, Clive slowly dismantles the case, guiding us through the whole scaffolding of the legal process and revealing a fundamentally broken system whose goal is not so much to find the right man as to convict.A bombshell whose final chapter should re-open a long closed case, The Injustice System will appeal to fans of true crime and anyone who has served on a jury.
About the Author
After graduating from Columbia Law School in New York, Clive Stafford Smith spent nine years as a lawyer with the Southern Center for Human Rights working on death penalty cases and other civil rights issues. In 1993, he moved to New Orleans and launched the Louisiana Crisis Assistance Center, a nonprofit law office specializing in the defense of death penalty cases for impoverished defendants. In 1999 Smith founded Reprieve, and the following year, he was awarded an OBE for "humanitarian services." He moved back to the U.K. in 2004 where he is focusing on achieving due process for the detainees being held by the U.S. in Guantanamo Bay, as well as well as continuing his work on death penalty cases. Smith was made a Rowntree Visionary and Echoing Green Fellow in 2005. A dual citizen, he lives in London.

Jonathan Cowley is a British actor living in Los Angeles who has received AudioFile Earphones Awards for his narrations of The Science of Evil by Simon Baron-Cohen and The Tower, the Zoo and the Tortoise by Julia Stuart.
Praise For The Injustice System…
"Clive Stafford Smith details a spectacular example of a bogus conviction, and the many lives ruined by it. It is a superbly written account of only one case, but one of thousands." ---John Grisham