Living with a Wild God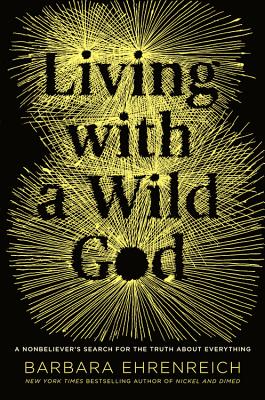 Living with a Wild God
A Nonbeliever's Search for the Truth about Everything
Twelve, Hardcover, 9781455501762, 256pp.
Publication Date: April 8, 2014
* Individual store prices may vary.
Buy at Local Store
Enter your zip code below to purchase from an indie close to you.
or
Buy Here
Description
From the "New York Times" bestselling author of "Nickel and Dimed" comes a brave, frank, and exquisitely written memoir that will change the way you see the world.
Barbara Ehrenreich is one of the most important thinkers of our time. Educated as a scientist, she is an author, journalist, activist, and advocate for social justice. In LIVING WITH A WILD GOD, she recounts her quest-beginning in childhood-to find "the Truth" about the universe and everything else: What's really going on? Why are we here? In middle age, she rediscovered the journal she had kept during her tumultuous adolescence, which records an event so strange, so cataclysmic, that she had never, in all the intervening years, written or spoken about it to anyone. It was the kind of event that people call a "mystical experience"-and, to a steadfast atheist and rationalist, nothing less than shattering.
In LIVING WITH A WILD GOD, Ehrenreich reconstructs her childhood mission, bringing an older woman's wry and erudite perspective to a young girl's impassioned obsession with the questions that, at one point or another, torment us all. The result is both deeply personal and cosmically sweeping-a searing memoir and a profound reflection on science, religion, and the human condition. With her signature combination of intellectual rigor and uninhibited imagination, Ehrenreich offers a true literary achievement-a work that has the power not only to entertain but amaze.
About the Author
Barbara Ehrenreich is the bestselling author of sixteen previous books, including "Nickel and Dimed", "Bait and Switch", "Bright-sided", "This Land Is Their Land", "Dancing In The Streets" and "Blood Rites". A frequent contributor to "Harper's" and "The Nation", she has also been a columnist at "The New York Times" and "Time" magazine.
A simply brilliant, hilarious satirist. "The Baltimore Sun"
It would be hard to find a wittier, more insightful guide to the last three decades than Ehrenreich. Arguing with her is part of the pleasure of reading her. Laura Shapiro, "Newsweek"
Praise For Living with a Wild God…
"Ehrenreich has always been an intellectual and a journalistic badass... [She] ultimately arrives at a truce with the idea of God. You'll admire her journey."
—Entertainment Weekly

"[Ehrenreich] resolutely avoids rhetoric in that 'blubbery vein'--which is why her book is such a rare feat...She struggles to make sense of the epiphany without recourse to the 'verbal hand-wavings about mystery and transcendence' that go with the territory... Ehrenreich has no interest in conversion...She wants, and inspires, open minds."—The Atlantic

"The factor that makes each of [Barbara's] books so completely unique in American intellectual life is her persistent sensitivity to matters of social class. She can always see through the smokescreen, the cloud of fibs we generate to make ourselves feel better about a world where the work of the many subsidizes the opulent lifestyles of the few. That, plus the fact that she writes damned well. Better than almost anyone out there, in fact."—Salon

"As personal a piece of writing as she has ever done... A surprising turn for Ehrenreich, who for more than 40 years has been one of our most accomplished and outspoken advocacy journalists and activists."—The Los Angeles Times

"Until reading LIVING WITH A WILD GOD I counted the Mary Karr memoir trilogy as my favorite from a contemporary literary figure. Now, Ehrenreich's memoir is tied for first place with Karr's books... Thank goodness [this book] exists. It is quite likely to rock the minds of readers who dare open to the first page."—Houston Chronicle

"A smart and enjoyable read... Ehrenreich maintains a grip on a sensible skepticism about religious matters - and a positive hostility toward the idea of unthinking faith - while avoiding the narrow-minded excesses that more zealous atheists sometimes fall victim to."—The Chicago Tribune
Wednesday, Apr 9, 2014
Author Barbara Ehrenreich is known for her work on poverty and other social issues. But her latest book, Living with a Wild God, reveals how she became an atheist. More at NPR.org
Tuesday, Apr 8, 2014
Barbara Ehrenreich � a rationalist, atheist and scientist by training � has written a new memoir called Living With a Wild God: A Nonbeliever's Search for the Truth about Everything. More at NPR.org