The Backyard Parables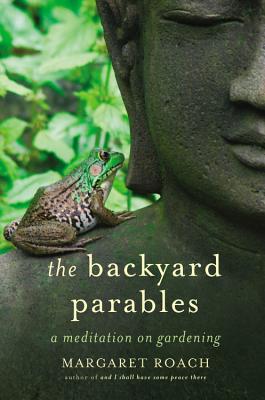 The Backyard Parables
Lessons on Gardening, and Life
Grand Central Publishing, Hardcover, 9781455501984, 258pp.
Publication Date: January 15, 2013
* Individual store prices may vary.
Buy at Local Store
Enter your zip code below to purchase from an indie close to you.
or
Buy Here
Description
Margaret Roach has been harvesting thirty years of backyard parables-deceptively simple, instructive stories from a life spent digging ever deeper-and has distilled them in this memoir along with her best tips for garden making, discouraging all manner of animal and insect opponents, at-home pickling, and more.


After ruminating on the bigger picture in her memoir And I Shall Have Some Peace There, Margaret Roach has returned to the garden, insisting as ever that we must garden with both our head and heart, or as she expresses it, with "horticultural how-to and woo-woo." In THE BACKYARD PARABLES, Roach uses her fundamental understanding of the natural world, philosophy, and life to explore the ways that gardening saved and instructed her, and meditates on the science and spirituality of nature, reminding her readers and herself to keep on digging.
About the Author
Vincent A. Simeone is the director of Planting Fields Arboretum state historic park in Oyster Bay, New York. He is a lecturer, teacher, horticultural consultant, and the author of "Great Flowering Landscape Shrubs," "Great Flowering Landscape Trees," and "Wonders of the Winter Landscape." He lives in Oyster Bay, New York. Bruce Curtis is a photographer whose work has appeared in "Time,"" LIFE," and "Sports Illustrated" magazines. His photography appears in many books, including "Great Flowering Landscape Shrubs," "Kids' Container Gardening," and "Wonders of the Winter Landscape," He lives in Roslyn, New York. Margaret Roach is the editorial director of "Martha Stewart Living," She lives in New York City. A. Wayne Cahilly is a horticulturist at New York Botanical Garden. He lives in Dumont, New Jersey.

Praise For The Backyard Parables…
"As a passionate, hopeful and often self-delusional gardener (the only kind of gardener there is!), I loved this book. Margaret Roach writes with intelligence, compassion, and-most of all-sanity. Her work is a blessing."—Elizabeth Gilbert, bestselling author of Eat, Pray, Love

"As I read this witty, revealing, sometimes poetic confessional I felt I understood for the first time what a garden could be-a work of art, a source of pleasure and solace, an object of beauty, a provider of nourishment. And why Margaret calls the plot she tends 'my monster.' This is the story of a real relationship: Margaret and her garden, a love story."—Anna Thomas, author of The Vegetarian Epicure and Love Soup

"In matters of both earth and heart, Margaret Roach is fearless. She digs deep. What she finds, and what she offers in this lyrical memoir of a gardening year, is hard-won wisdom laced with humor, hands-on how-to delivered with a poet's touch, experience embraced with fervor, humility, and grace."—Katrina Kenison, author of Magical Journey and The Gift of an Ordinary Day

"On her knees in the garden, Margaret cultivates an intimate relationship with the Beloved, finding what the body, heart and soul may most desire. As Rumi says: "Why should we not play like that sometimes, having fun, exploring some nooks...in our own backyard."—Daniel Ladinsky, bestselling Penguin poet-translator of Hafiz and Rumi