Rather Outspoken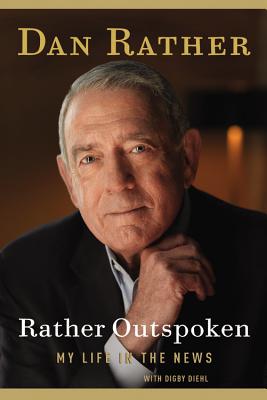 Rather Outspoken
My Life in the News
Grand Central Publishing, Hardcover, 9781455502417, 309pp.
Publication Date: May 1, 2012
* Individual store prices may vary.
Buy at Local Store
Enter your zip code below to purchase from an indie close to you.
or
Not Currently Available for Direct Purchase
Description
This memoir by Dan Rather is told in a straightforward and conversational voice, and covers all the important moments of his journalistic career, including a frank accounting of his dismissal from CBS, the Abu Ghraib story, the George W. Bush Air National Guard controversy, new insights on the JFK assassination, the origin of "Hurricane Dan" as well as inside stories about all the U.S. Presidents he covered and all the top personalities Dan has either interviewed or worked with over his distinguished career.
The book will also include Dan's thoughts on the state of journalism today and what he sees for its future, as well as never-before-revealed personal observations and commentary.

About the Author
Dan Rather is an American journalist and former news anchor for CBS Evening News. Known as the hardest working man in broadcast journalism, he has reported on a variety of historical events, including the assassination of President John F. Kennedy; the civil rights movement; the wars in Vietnam, Afghanistan, the Persian Gulf, and Iraq; the terror attacks of September 11, 2001; and many others. Rather has received numerous Emmy Awards, as well as seven Peabody Awards.He is the author of numerous bestsellers, includingRather Outspoken: My Life in the News, America at War, The American Dream, The Camera Never Blinks, and more.

Digby Diehl is one of the most trusted and successful literary collaborators in America. He has written, cowritten, rewritten, researched, and edited more than three dozen books. He was the founding editor of the original Los Angeles Times Book Review and previously served as a book columnist for AARP The Magazine and as a literary correspondent for ABC's Good Morning America. Diehl is currently the book editor of The Rotarian and writes articles and reviews for publications such as Esquire, the New York Times, People, and TV Guide. He lives in Pasadena with his wife, Kay Beyer Diehl.
Praise For Rather Outspoken…
A renowned journalist settles scores in this investigation of how the news media has become dangerously intertwined with politics and corporate interests.

With the assistance of Diehl, Rather (The American Dream: Stories from the Heart of Our Nation, 2002 etc.) comes out swinging as he delves into the circumstances behind his firing from CBS News, where he had worked as a reporter since 1962, covering everything from Vietnam to Watergate to the conditions at Abu Ghraib. Unfortunately for Rather, his determination to air a potentially damning story about then-president George W. Bush's spotty military record irked the higher-ups at CBS's parent company, Viacom, leaving the feisty anchor unemployed at 75. Never one to shirk controversy, he sued CBS for breach of contract; although the suit was dismissed before it could come to trial, he has no regrets and no qualms about naming names. Indeed, this memoir reads as a muckraker's delight, with Rather lambasting CBS management as "spineless" and "risk-averse." He painstakingly details the cloak-and-dagger operations that Bush proponents resorted to in an attempt to hide the truth and discredit Rather's source materials. Invoking Edward R. Murrow, Rather rails against those who would distort the news for their own gain and intentionally mislead the public. In between, he provides fair-minded portraits of the presidents he has interviewed, traces his passion for the news to his upbringing in a news-savvy family and expresses concern for the future of independent media in an industry that is increasingly kowtowing to the almighty bottom line. While Rather occasionally lapses into platitudes-a chapter on 9/11 offers little beyond well-worn observations about courage and patriotism-he always gives credit where credit is due, and his sincerity is never in doubt.

An engaging grab-bag: part folksy homage to roots, part exposé of institutional wrongdoing and part manifesto for a truly free press.
-- Kirkus Reviews

Anchor of the CBS Evening News for 24 years, much-honored newsman Rather has been working as a reporter for 64 years. He began his series of memoirs with The Camera Never Blinks (1977), a bestseller spanning his life from journalism study at Sam Houston State Teachers College to Watergate. He followed with I Remember (1991), recalling his Texas childhood, and The Camera Never Blinks Twice (1994) about TV journalism on location from Afghanistan to Vietnam. In this latest update to the series, his straight arrow honesty is punctuated with occasional humor: "It was long said of me that I had the CBS Eye tattooed somewhere on my ass." For a blistering opening chapter, he details the "absence of executive backbone" during CBS News' investigation of Abu Gharib: "The possibility that the financial and political interests of CBS corporate almost buried a story as compelling as Abu Gharib is most unsettling." He's equally outspoken on the "journalistic meltdown" when CBS News was ordered to drop its investigation into Bush's experience with the Texas Air National Guard. Throughout the book he delivers strong punches at those who stood in his way, but he also has much praise for the co-workers who joined him in his quest for the truth. With his usual conversational writing style, he maintains a personal connection with his readers in this riveting and revelatory autobiography that can also serve as a valuable textbook for anyone studying journalism.
--Publisher's Weekly