Mennonite Meets Mr. Right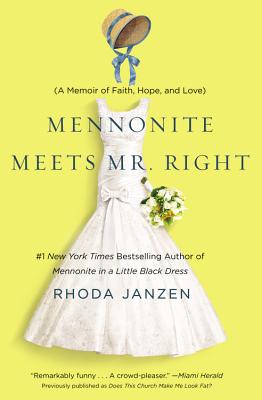 Mennonite Meets Mr. Right
A Memoir of Faith, Hope, and Love
Grand Central Publishing, Paperback, 9781455502875, 263pp.
Publication Date: October 15, 2013
* Individual store prices may vary.
Buy at Local Store
Enter your zip code below to purchase from an indie close to you.
or
Buy Here
Description
At the end of her bestselling memoir "Mennonite in a Little Black Dress," " "Rhoda Janzen had reconnected with her family roots, though her future felt uncertain. When this overeducated professor starts dating the most unlikely of men-a weight-liftin', church-goin', truck-drivin' rocker named Mitch-she begins a surprising journey to faith and love.

Nothing says, "Let's get to know each other " like lady problems on an epic scale, but Mitch vows to stay by her side. Convinced that his bedrock character has something to do with his Pentecostal church, Rhoda suits up for a brave new world of sparkler pom-poms and hand-clappin' hallelujahs.

Written with her trademark "uproarious, bawdy sense of humor" ("Minneapolis Star-Tribune"), MENNONITE MEETS MR. RIGHT is witty and moving, perfect for anyone who has taken an unexpected detour only to find that new roads lead to rich destinations.
About the Author
Rhoda Janzen is the author of "Mennonite in a Little Black Dress: A Memoir of Going Home", as well as "Babel's Stair", a collection of poems. Her poems have also appeared in "Poetry, The Yale Review, The Gettysburg Review", and "The Southern Review". She holds a PhD from the University of California, Los Angeles, where she was the University of California Poet Laureate in 1994 and 1997. She teaches English and creative writing at Hope College in Holland, Michigan.
Praise For Mennonite Meets Mr. Right…
"A hilarious account of the small details that make a life. . . Readers from all backgrounds will be inspired by Janzen's tale of love and faith told with her trademark wit and honesty."
-Booklist

"Janzen is the kind of writer-world-weary yet incredulous; girlfriend-esque and conversational-that draws you along through a story with ease...[Does This Church Make Me Look Fat] would fit naturally on a shelf, say, next to your collection of beat-up Anne Lamott paperbacks. It has that same sort of accessibility to it; that same sort of acceptance."
-Charity Vogel, The Buffalo News

"Smart and witty.... Janzen has a remarkable ability to demystify religion through humor and humanity."
-Susanne Jaffe, The Columbus Dispatch

"Amazingly light-hearted... [Janzen] is not so much proselytizing for her particular religion as she is pointing toward the value of examining one's own beliefs, whatever they might be, and finding a way to live with them in joy."
-Colette Bancroft, Tampa Bay Times

"A delight for fans of [Janzen's] warm, wisecracking style.... Her enthusiasm and spirit and knack for finding humor in the God details make this book a crowd-pleaser."
-Hannah Sampson, The Miami Herald

"A joyful trek through one woman's spiritual journey into a new life as a wife, stepmother, and believer"
-Publishers Weekly (starred review)

"Does This Church Make Me Look Fat? made me laugh out loud, often enough to make my beloved children inquire as to whether I was losing my mind. Too much spiritual writing these days claims that religious practice is about healing or developing the self. But Rhoda Janzen avoids this theme: here she sets out on a path to become more loving, grateful, and helpful to others. This is particularly impressive given that she's writing about a period in her life when she's got a scary, life-threatening illness, and a brand-new family. Bravo, Rhoda-or rather, 'Thank God!'"
-Kate Braestrup, author of Here if You Need Me and Beginner's Grace

"Rhoda Janzen is one of the few people I trust to write about faith without using God to clobber me. She writes about the most serious things in the world-life, death, family, love-with such spot-on honesty, spiritual humility, and disarming humor that I would follow her anywhere. The nicest thing I can say about her new book is that it made me want to be a better person. It is that good."
-Barbara Brown Taylor, author of An Altar in the World and Leaving Church

"Paul Shaffer, the noted theologian/TV sidekick, once said that if God is the ultimate being, he must have the ultimate sense of humor. To which I add, Rhoda Janzen is not far behind. This is one funny book. Not to mention thought-provoking and touching."
-AJ Jacobs, author of The Year of Living Biblically