Burn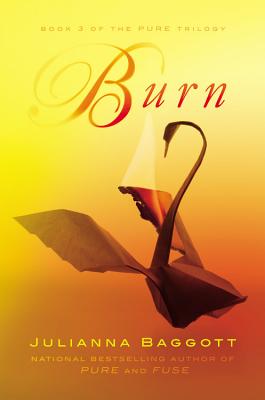 Burn
Grand Central Publishing, Hardcover, 9781455502998, 420pp.
Publication Date: February 4, 2014
* Individual store prices may vary.
Buy Now
or
Shop Local
Enter your zip code below to purchase from an indie close to you.
Description
The stunning conclusion to the trilogy that began with Pure, recommended by People for those who loved The Hunger Games
With his father now dead, Partridge has assumed leadership of the Dome, one of the last few refuges from the ravaged wastelands of the outside world. At first, Partridge is intent on exposing his father's lies, taking down the rigid order of the Dome, and uniting its citizens with the disfigured Wretches on the outside. But from his new position of power, things are far more complex and potentially dangerous than he could have ever imagined.
On the outside, a band of survivors faces a treacherous journey to Dome. Pressia carries with her the key to salvation. If she can get it to the Dome, the Wretches could one day be healed and everyone might be able to put the horrors of the past behind them. Bradwell, the revolutionary, cannot forgive so easily. Despite Pressia's pleas, he is determined to bring down the Dome and hold its citizens accountable for leaving the rest of the world to burn. El Capitan, the former rebel leader, wants to help Pressia save as many lives as possible--but he's struggling to reconcile his newfound compassion with his vicious past.
As former allies become potential enemies, the fate of the world is more uncertain than ever. Will humanity fall to destruction? Or will a new world rise from the ashes?
About the Author
Julianna Baggott is a poet and the author of several novels for adult readers, including Girl Talk, The Madam, and The Miss America Family, as well as Which Brings Me to You, cowritten with Steve Almond. As the pseudonymous N. E. Bode, she has written The Slippery Map, The Anybodies, The Nobodies, and The Somebodies. She lives with her family in Tallahassee, Florida.