The Investment Answer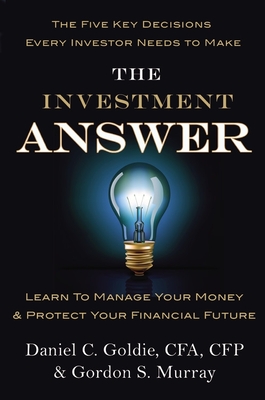 The Investment Answer
Learn to Manage Your Money & Protect Your Financial Future
Business Plus, Hardcover, 9781455503308, 85pp.
Publication Date: January 25, 2011
* Individual store prices may vary.
Buy Now
or
Shop Local
Enter your zip code below to purchase from an indie close to you.
Description
What if there were a way to cut through all the financial mumbo-jumbo? Wouldn't it be great if someone could really explain to us-in plain and simple English-the basics we must know about investing in order to insure our financial freedom?
At last, here's good news.
Jargon-free and written for all investors-experienced, beginner, and everyone in between-THE INVESTMENT ANSWER distills the process into just five decisions-five straightforward choices that can lead to safe and sound ways to manage your money.
When Wall Street veteran Gordon Murray told his good friend and financial advisor, Dan Goldie, that he had only six months to live, Dan responded, "Do you want to write that book you've always wanted to do?" The result is this eminently valuable primer which can be read and understood in one sitting, and has advice that benefits you, not Wall Street and the rest of the traditional financial services industry.
THE INVESTMENT ANSWER asks readers to make five basic but key decisions to stack the investment odds in their favor. The advice is simple, easy-to-follow, and effective, and can lead to a more profitable portfolio for every investor. Specifically:
* Should I invest on my own or seek help from an investment professional?
* How should I allocate my investments among stocks, bonds, and cash?
* Which specific asset classes within these broad categories should I include in my portfolio?
* Should I take an actively managed approach to investing, or follow a passive alternative?
* When should I sell assets and when should I buy more?
In a world of fast-talking traders who believe that they can game the system and a market characterized by instability, this extraordinary and timely book offers guidance every investor should have.

About the Author
Daniel C. Goldie is President of Dan Goldie Financial Services, LLC, an investment advising firm. He played professional tennis, getting to the quarter finals at Wimledon. He has been recognized by Barron's as one of the 100 best independent financial advisors in the United States.He graduated from Stanford University and has a master's degree in business administration from the Haas School of Business, belonging to the University of California at Berkeley. He is a member of the CFA Institute, an international association for professional investors. Besides this book, he is a co-author of the Prudent Investor's Guide to Beating the Market at Its Own Game.


Praise For The Investment Answer…
"An excellent primer for the investor who is not a finance specialist." --Eugene F. Fama, Robert R. McCormick Distinguished Service Professor of Finance, Chicago Booth School of Business, widely recognized as the "father of modern finance," Nobel Laureate in Economics, 2013


"Goldie and Murray have distilled the essence of the matter, and
explain in clear English, the advantages of using a fee-only financial advisor, how to select such, and how to work with one in the short and long run. This is sound advice, which you will rarely if ever get from a daily financial newscast." --Harry M. Markowitz, PH.D., Nobel Laureate in Economics, 1990, Father of Modern Portfolio Theory


"Gordon Murray and Dan Goldie have written a book that every
American should read. Its clarity de-mystifies the investment process and its insights can make anyone who reads it a better investor." --Bill Bradley, former United States Senator


"I'm glad to see Gordon and Dan collect these insights into a handy, easy-to-use primer so Gordon can stop explaining these principles at Sunday brunch and family birthdays. Full disclosure: Gordon's my brother-in-law. That said, I found this slim volume incredibly helpful in explaining how to think about investing. It's reassuring to know there are some simple principles anyone can keep in mind to make decent decisions and banish the vague anxiety most of us have about where we've put our money." --Ira Glass, Edward R. Murrow Award winner, Host of NPR's This American Life

"Murray and Goldie use simple yet compelling logic to explain the fundamental principles of investing. Their clear advice will improve your investment experience." --Kenneth R. French, Heidt Professor of Finance, Dartmouth College, Tuck School of Business


"Gordon Murray and Dan Goldie share secrets that Wall Street would rather you not know. You can implement a few simple strategies at a very low cost that will outperform most of the stock picking and complicated advice hawked by high-priced brokers. Read this book and prosper." --Joseph A. Grundfest, former SEC Commissioner, cofounder of Financial Engines, and Professor of Law and Business at Stanford Law School


"Wow! Goldie and Murray have just hit a home run. If I could give only one book on investing to my friends and family, this one would be it." --Bob Waterman, co-author, In Search of Excellence, former director of McKinsey & Company