Humboldt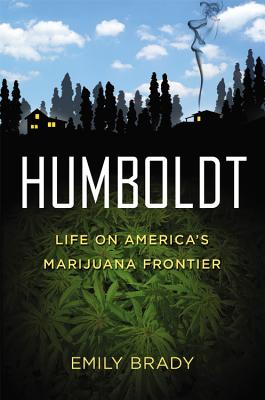 Humboldt
Life on America's Marijuana Frontier
Grand Central Publishing, Hardcover, 9781455506767, 260pp.
Publication Date: June 18, 2013
* Individual store prices may vary.
Buy at Local Store
Enter your zip code below to purchase from an indie close to you.
or
Buy Here
Description
In the vein of Susan Orlean's "The Orchid Thief "and" "Deborah Feldman's "Unorthodox, "journalist Emily Brady journeys into a secretive subculture--one that marijuana built.
Humboldt: "Life on America's Marijuana Frontier"
Say the words "Humboldt County" to a stranger and you might receive a knowing grin. The name is infamous, and yet the place, and its inhabitants, have been nearly impenetrable. Until now.
Humboldt is a narrative exploration of an insular community in Northern California, which for nearly 40 years has existed primarily on the cultivation and sale of marijuana. It's a place where business is done with thick wads of cash and savings are buried in the backyard. In Humboldt County, marijuana supports everything from fire departments to schools, but it comes with a heavy price. As legalization looms, the community stands at a crossroads and its inhabitants are deeply divided on the issue--some want to claim their rightful heritage as master growers and have their livelihood legitimized, others want to continue reaping the inflated profits of the black market.
Emily Brady spent a year living with the highly secretive residents of Humboldt County, and her cast of eccentric, intimately drawn characters take us into a fascinating, alternate universe. It's the story of a small town that became dependent on a forbidden plant, and of how everything is changing as marijuana goes mainstream.
About the Author
Emily Brady is Reader in Aesthetics at the Institute of Geography and Environment and an Academic Associate in Philosophy at the University of Edinburgh. Her research interests include environmental aesthetics (nature, art, cultural landscapes and everyday life), environmental ethics, Kant and eighteenth-century philosophy. Brady is author of Aesthetics of the Natural Environment (2003) and co-editor of Aesthetic Concepts: Essays after Sibley (2001), Humans in the Land: The Ethics and Aesthetics of the Cultural Landscape (2008) and Human-Environment Relations: Transformative Values in Theory and Practice. Brady has been a Laurance S. Rockefeller Faculty Fellow at Princeton University's Center for Human Values and is a past president of the International Society for Environmental Ethics. She has been an associate editor of Environmental Values and a co-editor of Society and Space and has also served as secretary, treasurer and executive committee member of the British Society of Aesthetics.
Praise For Humboldt…
"In a rare journalistic feat, Emily Brady burrowed deep inside an infamous subculture and emerged with a luminous but haunting dispatch about a secretive community of outlaw pot growers--some of whom would rather risk their lives than see their profits crushed by the decriminalization of cannabis. Brady's brave reporting pulls no punches yet makes no judgments as she chronicles four people torn by their allegiances to a place that represents the beauty and ruthlessness of the modern American frontier-and the hypocrisy of the country's drug policy. Humboldt is a triumph of immersion reporting: vivid, compassionate, maddening and unforgettable."
--Jonathan Schuppe, Pulitzer Prize-winning reporter and author of A Chance to Win

"Emily Brady escorts you into the redwood-studded mountains of northern California where a secretive marijuana culture thrives-for now-outside the law. Deeply reported and populated with vibrant characters spanning generations, Humboldt documents the real lives behind America's favorite high. A fascinating and timely read."
--David Kinney, Pulitzer Prize-winning reporter and author of The Big One

"Emily Brady has written a terrifically gripping book about America's confused relationship with marijuana. A tour-de-force of investigative journalism, Brady takes us inside the world of pot growers in God's own country, and illuminates the policy issues around legalization in a series of beautifully rendered character portraits." --Suketu Mehta, author of the Pulitzer Prize finalist MAXIMUM CITY: Bombay Lost and Found

"In her vivid, hypnotic HUMBOLDT, Emily Brady brings the notoriously secretive pot-growing community of Northern California to life through the lives of four very different Humboldters, whose nuanced stories form together like wisps of smoke." -Julian Rubinstein, author of the international bestseller Ballad of the Whiskey Robber

"Emily Brady has written a masterful opus dopus-to borrow a phrase from her book-chronicling the dreams and struggles of a community that has become infamous worldwide for their controversial cash crop. In Humboldt, she takes a clear-eyed look at the marijuana industry: its growers, trimmers, dealers, and family-run businesses. Readers will come away with a newfound and nuanced understanding of pot, but this is really a book about people whose outrageous, funny, and heartbreaking stories you won't soon forget."
--Brooke Hauser, author of THE NEW KIDS: Big Dreams and Brave Journeys at a High School for Immigrant Teens

"In her book Humboldt, Emily Brady takes us on a rowdy off-road trip into the homeland of marijuana moonshining, where pit bulls guard the fields, cash fills up holes in the ground, and it's a bad idea to ask anyone you encounter what they do for a living."
--Bruce Porter, New York Times bestselling author of Blow