The Alligator Man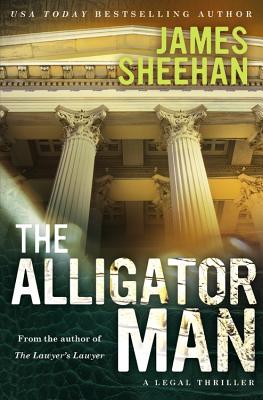 The Alligator Man
Center Street, Hardcover, 9781455508648, 400pp.
Publication Date: October 8, 2013
* Individual store prices may vary.
Not Currently Available for Direct Purchase
or
Shop Local
Enter your zip code below to purchase from an indie close to you.
Description
Kevin Wylie's crooked boss wants to run him out of town, and Kevin's long-time girlfriend is ready to take a hike. He decides to leave Miami and visit his father, who he hasn't seen in 28 years. Heading back to his hometown, Kevin doesn't realize that he and his dad will become embroiled in a murder case.
The victim, one of the richest and most-hated corporate criminals in America has been dubbed The Alligator Man after pieces of his clothing were found in a local swamp. Billy Fuller had every reason to want the victim dead and all the evidence leads right to his doorstep. But legendary lawyer Tom Wylie believes in Billy and he and his son reunite to fight for Billy's life.
The Alligator Man is a story of greed, anger, love, redemption and two powerful trial attorneys who fight to the end-- and risk everything--for the truth.

About the Author
James J. Sheehan is currently an assistant professor at Cleveland State University. He received his Ph.D. in education from Ohio University where he was on the faculty from 1994 to 1997. Before teaching at Cleveland State University, he taught history of higher education, elementary, middle, and secondary social studies at the University of North Dakota. His interests are the history of American public education, teacher education, and school reform.
Praise For The Alligator Man…
"Fun stuff."
- Kirkus Reviews, on THE ALLIGATOR MAN

"This is the second book that I read by James Sheehan. James is a great writer, rating right up there with James Patterson. James Sheehan was a lawyer and you can tell by the way the book is written. James brings you right into the court room and gives a lot of the back story of this trial."
-Fresh Fiction, on THE ALLIGATOR MAN

"James Sheehan, knows a lot about the law. He practiced it for thirty years and has written three acclaimed legal thrillers. I recommended Sheehan's last novel, 'The Lawyer's Lawyer,' and I definitely recommend his new one."
-Bookviews.com, on THE ALLIGATOR MAN

"Sheehan is a gifted storyteller who fans of Paul Levine or James Grippando's Florida-set legal thrillers should enjoy. THE ALLIGATOR MAN merges the fast pave of Miami with the rural, one stoplight towns that skirt Florida's Everglades, where alligators aren't the most dangerous predators lurking."
-Florida Book Review, on THE ALLIGATOR MAN

"Sheehan paints a sympathetic portrait...while crafting an ending that will satisfy readers who like to see justice prevail."
-Publishers Weekly, on THE ALLIGATOR MAN

"It is not only the development of each character's individual story but Sheehan's ability to compel his readers to care about them that sets this book apart from other legal thrillers."
-Library Journal, on THE ALLIGATOR MAN

". . . an enthralling legal thriller."
-New York Journal of Books, on THE ALLIGATOR MAN

"If you're looking for a fast-paced, intriguing legal thriller, The Alligator Man by James Sheehan is the novel for you."
-Southern Literary Review, on THE ALLIGATOR MAN

"The courtroom action is compelling...And Sheehan keeps the surprises-come scary, some bittersweet-coming to the very last page."
-Tampa Bay Times, on THE ALLIGATOR MAN

"[Sheehan] is especially good whenever he takes us into a courtroom.... Sheehan brings the three-way jousting of a criminal trial...to blazing life."

-The Washington Post on The Lawyer's Lawyer

"Exciting...legal thriller...Sheehan...keep(s) the tension high..."
-Publishers Weekly on The Lawyer's Lawyer

"Sheehan...writes with bleak clarity...but there's a touch of the poet in his voice."
-The New York Times, on The Mayor of Lexington Avenue

"This is a debut novel but it reads like it was written by a master of the genre."
-Nelson DeMille, on The Mayor of Lexington Avenue

"An assured, elegant, suspenseful courtroom thriller."
-Kirkus Reviews, on The Law of Second Chances

"Fast moving and tightly written...boasts a gripping story and characters who will make the reader care. Al in all, a stylish and engaging novel."
-Richard North Patterson, on The Law of Second Chances